Fans of the Phillies got a treat May 8 at the ninth annual Asian-Pacific Celebration at Citizens Bank Park when the Filipino Intercultural Society of Drexel University performed tinikling, a traditional Filipino dance.
Tinikling, honored as the Philippine national dance, is a favorite of the Visayan Islands. The dance imitates the movement of tikling birds as they walk between grass stems, run over tree branches and dodge bamboo traps set by rice farmers. Dancers imitate these movements by skillfully maneuvering between large bamboo poles.
The FISDU dancers who performed this dance had weekly practices to prepare for their 12th annual Barrio, a culture show that showcases Filipino dance, food and more.
"Well, we didn't have to prepare for it. It was more like preparation for Barrio that allowed us to be ready to perform at the Phillies game," Jia Wong said.
However, the audience at the game was bigger than what the dancers were used to.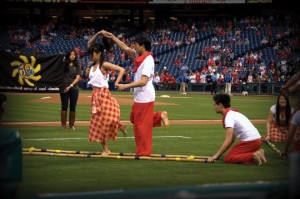 "I think we were all very nervous, even though some of us have done it before, and also honored at the same time because we got to share a part of Filipino culture that many people may not have known about," Wong said.
Jeffrey Urbano, a pre-junior business marketing major, agreed.
"It was raining so we were afraid we might slip and fall. But once you get out on that field, it's an adrenaline rush because all eyes are on us. But when we saw ourselves on the big screen, we got really pumped up," he said.
According to Urbano, FISDU has been performing at Phillies games for the past few years every May in honor of Asian Heritage Month. What enables them to keep performing at the games, Wong said, is the fact that FISDU and the Phillies are big supporters of each other.