Drexel's Graduate Student Association hosted its first Creativity and Innovation Colloquium Nov. 14 at the Edmund D. Bossone Research Enterprise Center, featuring two lecturers who spoke on the role of creative ideas in research and development.
Ross Cagan began the session by speaking about his technique for fostering innovation. As a professor and associate dean of the Graduate School of Biological Sciences at Mount Sinai Hospital, Cagan has developed his own method of bringing out creativity in his students. By challenging his students to produce a high volume of ideas in a limited amount of time, he ensures that the students put forth all of their ideas, including the less conventional ones.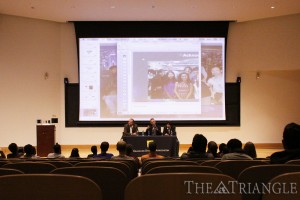 According to Cagan, professors play an essential role in maintaining an innovative environment. He especially emphasized the importance of embracing risk, likening the field of biology today to the field of computational science in the early 1980s. Researchers in the biological sciences are facing government caps on funding and need to consider the world beyond traditional academia, just as the computational scientists who gave birth to the era of Microsoft and Apple once did. Cagan encouraged students to embrace the risks of entrepreneurship, which could help the field of biology to grow in the future.
"Risk is a good thing. It pushes you to become creative," he said.
Cagan summarized his point by providing an example of how he implemented these methods in his own research. Quoting Thomas Edison, Cagan explained that the heart of invention lies in finding an unmet need and then resolving that need. Cagan was able to do this in the field of medullary thyroid cancer by using fruit flies to produce a more predictive model for the effects of cancer therapeutics. Cagan's second streak of innovation was his approach to finding a cure for cancer. Though research has mostly sought to understand the disease and then find a cure, Cagan wanted to do the opposite.
"If we understand cancer but don't have a therapeutic, we lose. But if we have a therapeutic but don't understand cancer, we win," Cagan said.
In this approach, research focuses on finding a cure first rather than learning about the disease. Cagan applied this theory to his research and developed the current frontline treatment for medullary thyroid cancer, a drug called Vandetanib.
Mauricio Reginato of Drexel's College of Medicine also spoke about cancer research. In keeping with the theme of innovation, he referenced author Jacob Bronowski.
"Ask an impertinent question, and you are on the way to a pertinent answer," he quoted.
To exemplify this statement, he told the audience about his colleague, Mina Bissell, and the advances she made in cancer research. By asking "impertinent questions," Bissell explored areas of cancer research that had been overlooked. The experiments that followed helped to show that tumor growth is affected by the microenvironment of cancer cells. They also helped to develop a method of culturing cells in an environment more representative of physiological conditions. Reginato went on to explain the work that his own lab has done to expand our understanding of cancer.
Following the speeches by both Cagan and Reginato, Aleister Saunders, associate dean for research and graduate education in the College of Arts and Sciences, brought the two guest speakers together for a roundtable discussion. Audience members, who were mostly graduate students, had the opportunity to ask the speakers about collaboration in research, staying focused on a research topic and how to approach research as a first-year graduate student. Justin Mathew, president of the GSA, wrapped up the session after a few questions by presenting the speakers and Saunders, the moderator, with a small gift.
During the reception that followed, both students and faculty members expressed their appreciation of the colloquium's topic and execution. Vivian Allahyari, a first-year doctoral student in biology, especially appreciated the speakers' encouragement to think outside the box.
"It gets you out of the tunnel vision associated with a Ph.D.," she said.
Teck-Kah Lim, associate vice provost for graduate studies, thought that the graduate students should take away the idea that research is not straightforward and that students should be aware of the dead ends they will encounter in research.
The Creativity and Innovation Colloquia series was created by the GSA to demonstrate to graduate students the different ways in which creativity and innovation feature in research. Alison Novak, a GSA executive board member and culture and communication doctoral student, explained her idea behind the colloquia's conception.
"We want to start to showcase creativity and innovation," Novak said.
The next event in the colloquia is scheduled for February.