Drexel students had a chance to experience a day in the life of a teenager in war-torn northern Uganda during the premiere of the documentary film "Staging Hope" at the Ritz East in Philadelphia Nov. 1-2.
The film, directed by Bill Yoelin and produced by Melissa Fitzgerald and Katy Fox, follows a group of television actors, playwrights and activists who use a theater program to help 14 teens living in northern Uganda explore the traumatic events they have been through.
Children in Uganda are currently living in the aftermath of the rebel insurgent group Lord's Resistance Army, led by Ugandan Joseph Kony. The film chronicles 14 Ugandan teenagers living in the Internally Displaced Person's Labuja camp. In the film, each teenager is given a task to help express his or her story through community plays.
Many of these teenagers have been physically and mentally traumatized and were orphaned or abandoned in their youth. With the help of the volunteer American cast and crew, the teens' autobiographical plays addressed their struggles with HIV/AIDS, peace and reconciliation. The teens chanted and sang to grow closer to the foreign activists and their friends.
Merissa Grey, a freshman studying engineering, was present during the movie and was moved by the humility of the performing Ugandan teenagers.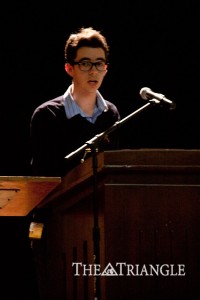 "It is really amazing to see the incredible emotion that each teen gave about their part in the play. Even after having gone through such atrocities, all of the kids were so joyous and thrilled to be part of something so big. I know I could never be able to do it," she said.
Michael and Scovia, two of the teenagers from the theater program, were of keen interest to the Drexel students who went to the showing of "Staging Hope." Michael is shown as a former member of the LRA who was taken as a hostage soldier for the rebel group. At 19 years of age, his left arm was left completely paralyzed from the effects of a gunshot wound he sustained many months earlier.
In the film, Michael vividly described the situation he was put through.
"They ask me, 'Michael, if we just kill you, how do we [do it]?' But I was afraid to answer because when you answer this, they will kill you. I cannot forget about it," he said.
Scovia, on the other hand, was straightforward when describing her situation while living at the camp.
"There is no support, nobody to buy us clothes or anything. And I have no other way," she said.
The stories acted out through the film resonated with Drexel freshman Unnati Hajari, a chemistry major.
"I feel so fortunate to live in the United States after seeing this. Hopefully this film can bring out an emotional response to others like it did for me. I wish Scovia, Michael and all the other children in Uganda the best," Hajari said.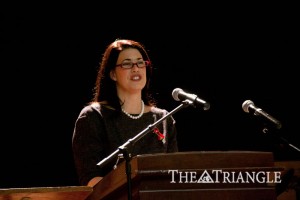 Melissa Fitzgerald, activist and actress in "Staging Hope," is a prominent face when it comes to the movement toward peace in northern Uganda.  Her acting career has included film, theater and television in New York and Los Angeles. She is best known for playing the role of Carol on NBC's award-winning political drama, "The West Wing." Throughout her life, Fitzgerald has been noted for being a recognizable face in community outreach programs and service.
She co-founded a charitable organization, "Voices in Harmony," committed to empowering at-risk teens by promoting personal success into an artistic and creative approach.
Fitzgerald currently advocates for peace in northern Uganda as well as central Africa. In addition, she has spoken many times on Capitol Hill in hopes of publicizing the problems currently facing Uganda and its population. Fitzgerald recently came to Drexel to lead the discussion of her theater group, "Voices of Uganda."
During this discussion, the three main plays were performed by Drexel students Kenneth Wittwer, Aja Mia Carter, Elias Okwara, Catherine Khella, Ally Navratil and Veda Johnson. Together, the group re-enacted the plays set forth by the students in Uganda, individually telling the story of each teenager's past.
Toward the end of the plays, Fitzgerald explained her choices and remarked on going to Uganda to try to help Ugandan youth.
"After co-finding a theater program called 'Voices in Harmony,' I decided to separately go and volunteer in northern Uganda to work in the IDP camps in the area that had been just devastated by a brutal civil war," Fitzgerald said. "I was so stunned by what I saw that I came back and I wanted to do more."
Later that night, Fitzgerald shared with Drexel students her endeavors to learn the culture of northern Uganda and the different styles and friendships that she had adapted with the teens at the theater program.
"I loved working with the teenagers, they were so incredibly creative and wonderful and incredible. It was a great experience," she said.
Drexel students who were part of the play, as well as Fitzgerald, concluded the night by chanting the song that was initially played for the teens back in Uganda. Fitzgerald described the experience as "inspiring, vitalizing and definitely something worth being heard all over the world."