In the world of video game journalism and review, there is one name that everyone knows: Anita Sarkeesian. She became famous in 2012, when she initiated a Kickstarter campaign to raise $6,000 towards her Tropes v. Women in Video Games YouTube series. She collected almost $160,000, exceeding her original goal by nearly 2500 percent. However, there was a price to pay. With all the attention Sarkeesian's campaign gathered, she soon became the most aggressively harassed woman on the internet, a title she still bears — with pride.
Partnering with Temple Libraries as a part of their Beyond the Page series, Drexel University's own Entrepreneurial Game Studio secured an informal Q and A session Feb. 19 with Sarkeesian. The event, moderated by Director Frank Lee and Program Manager Arianna Gass, posed student-authored questions for the feminist icon in a relaxed and honest environment: no audio or video recording was permitted, although tweets and photos were encouraged.
Lee was excited to have such a prominent name visiting Drexel, but recognized the sensitive nature of her visit.
"We wanted to keep it very controlled. The audience had to be restricted, which is why the event here [at Drexel] was invite-only and why Temple required pre-registration." Such stringent security was far from unmerited as Sarkeesian had to cancel a recent appearance at Utah State University following multiple death threats.
Standing at just over five feet tall, Anita Sarkeesian displays enough charisma and confidence to make her the biggest person in the room.
Even during a lunch break while speaking with students, she gave off a quiet strength. Her back straight, Sarkeesian nodded eagerly along to points she agreed with, but became most engaged when she heard those she didn't. At these points, she'd put down her food and scoot to the edge of her chair.
In Drexel's ExCITE Center, she moved about freely, chatting with students who were there to hear her speak. The mandatory bag checks and the armed guards stationed about the room seemed almost out of place. However, for Sarkeesian this has become the norm.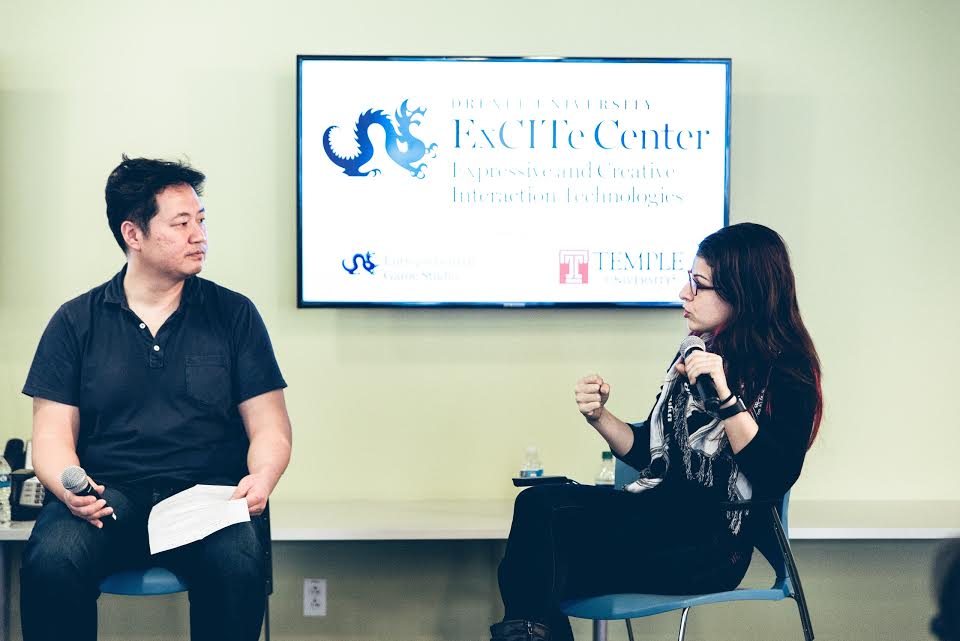 "I was really frustrated with how inaccessible feminism and feminist theory was," Sarkeesian began talking on stage, reflecting on her time in graduate school and the early days of her web series, FeministFrequency. "There's actually not a lot written about the damsel in distress," she continued.
When Sarkeesian began examining female representation in video games, no one knew that her mission would eventually be what catapulted her into fame and made her the center of one of the internet's most notorious anti-feminist hate campaigns — Gamergate.
In their early years (circa 2009), Sarkeesian's vlogs did not garner much attention, though both academics and those who also had a casual interest in feminism applauded her work. One of her more popular series is titled "Tropes vs. Women" and examines movies from a feminist perspective, featuring topics and titles such as "The Manic Pixie Dream Girl," "The Straw Feminist" and "The Smurfette Principle." This series was the one that garnered Sarkeesian national attention, and eventually shifted its focus from movies to video games.
"We contributed a feminist lexicon on how to talk about games that started from a working body of feminist study," she said of the webseries' successes. This marks quite a bit of progress — she's progressed past arguing with people over whether or not Princess Peach was a "damsel in distress" — but Sarkeesian constantly reminded the audience about the long journey that the gaming industry has ahead of it.
The Q and A continued to describe the faults in video game culture and their impact on women. Sarkeesian viewed this discussion as a global one, a point she made clear when asked about the nature of differences in representation between western and non-western games.
"US media is exported across the world, and that's fine except when it becomes exported 'whiteness' instead. In Japan, we see this as the exporting of Japanese culture," she observed. "While culture can be exported, sexism cannot. We always need to consider the impact exported games can have on the community as a whole," Sarkeesian continued.
She also noted that the definition of the gamer "community" has changed significantly, especially with the growth of mobile games.
"Who we consider a 'gamer' and what we consider 'gaming' has just changed so much. You'll hear some mobile gamers called 'casuals' by others who focus on PC or console games, but I don't think that's fair. There's nothing casual about the way my mom plays Candy Crush," she added with a chuckle. This increase of inclusion hasn't always meant better games, just a wider audience. She observed the redundancy of games in the mobile market, citing the many "Flappy Bird" knockoffs that litter the App Store.
These transparent cash grabs served as a case-in-point for Sarkeesian's response to the next question posed: Do game companies have any moral or ethical obligations?
After a brief pause and a laugh, Sarkeesian responded: "I would love for companies to have moral restrictions, but they don't." She then dove into a multitude of examples of games or movies wherein female characters are used only as devices to show how depraved a male character is, citing specifically Assassin's Creed: Brotherhood and the Grand Theft Auto series. "Video games are an art form, but they're made by corporations, and corporations aim to make money," she explained, noting a corporate flaw.
It was by this reasoning that she was able to answer the next question about how consumers can let game makers know that they're unhappy with their games.
"We have more means than ever," she said excitedly, referring to social media and all things online. Sarkeesian was quick to acknowledge how this connectivity can be a double-edged sword, especially given her own experiences with communities on the internet. She chose to look on the bright side instead, noting, "Entitlement campaigns can rise up, but we too can build up campaigns of our own using social media," she continued.
Despite her history of online harassment, stemming predominantly from anonymous sources, Sarkeesian came out in support of hidden identities on the internet.
"There are so many [people] out there who can't reveal their identities for the sake of their own safety," she observed, pulling a hum of approval from the crowd. She was also careful to point out that her negative experiences came not from the anonymity itself, but the culture that hides behind it. "I think it's a cop-out, really," she said with a sigh.
Knowing that games work as companies, Sarkeesian emphasized that one of the best ways gamers can change the culture is through game reviews. "Getting bad reviews makes them really pay attention to what we're saying," she explained. Continuing, she noted how many gaming companies still operate on the now-archaic market research that white males ages 18-32 constitute a vast majority of the gaming industry's clientele. However, video game market analysts have noted as far back as 2014 that the gaming industry is an incredibly volatile market with high levels of participation from many different demographics. The Entertainment Software Association reported that in 2013 nearly equal numbers of men and women played video games, at 52 percent and 48 percent respectively. When considering age as part of the equation, the same study noted that adult women made up for a higher percentage of the market share than teenage boys, at 36 percent as opposed to 17.
Sarkeesian also noted that there are, in fact, many developers out there who want to include better and more accurate representations of not only women, but of people of color and members of the LGBT community.
"We're seeing more developers wanting to get better but not knowing quite how," she said, making a case for why video game reviews should try to have a feminist or socially-aware edge to them. "Sometimes all that needs to happen is that developers are more thoughtful– and that could be as simple as being more aware of social goings-on," she continued.
The next segment of the Q and A segued into next steps, beginning with a question asking how game developers could incorporate more powerful women into their games. At this, Sarkeesian rolled her eyes.
"There's no formula for building a 'good' female character. A female character that can only be described as 'strong' isn't a good character, either. They should be honest, meaningful, multi-dimensional characters, not just placeholders for the sake of 'diversity,'" she explained.
Sarkeesian closed her discussion with notes on the power of media and education. "Progress doesn't just happen, we fight for it," she said while touching on the importance of women entering the game design industry and the implications that this could have on the quality of games.
"It's not additive. It has to happen all at once. These are not issues that can be overlooked," she said. In agreeing with Lee's argument that more diverse groups create better games, Sarkeesian stood up in front of the group and concluded, "Look, all my work is based around the idea that media matters. What you produce goes out into the world and affects people. And that's f-cking awesome," she claimed.
Though she was on a tight schedule with a formal lecture at Temple at 4 p.m., Sarkeesian took 15 minutes to talk personally with interested students and pose for pictures. Joanne Wong, the President of the Drexel Game Developers Group and Ciera Gordon, the Head of Outgoing Donations for Drexel TechServ, were among the 70 students present for the event and both loved the honest environment.
"I love that she swore so much. It definitely personalized her and made everything seem much more casual and real," Wong said.
Gordon agreed, adding, "I was happy and surprised about her stance on anonymity. I agree that there are a lot of people out there who need it to be able to connect with others on the internet."
Following the cleanup of the event, Lee was tired but proud of how everything went.
"This panel really confirmed things I already knew and things I'm already trying," he said, particularly excited about how this reflects on his Entrepreneurial Game Studio. "The EGS is not under any specific department or college. It is open to all [people]." Lee was most happy about Sarkeesian's agreement of endorsing a diverse gaming industry.
"As I've always said, I want diversity in the gaming industry for purely selfish reasons: the more diverse the game industry is, the more interesting and awesome the games produced are. And I just want awesome games," Lee said.