Drexel continued its long-standing tradition of ringing in the new academic year with its 123rd convocation Oct. 7. The auditorium of the Main Building stood filled with proud staff, all dressed in traditional academic costume, gathered to celebrate this year's theme: "The Year of the Faculty." After Rabbi Isabel de Koninck's invocation and blessings for the new year, James D. Herbert, interim provost, took to the stage.
"There's one thing I've learned about this place, and that is it is far too dynamic and forward-moving for a leader, interim or otherwise, to just keep the trains running on time," Herbert said of his plans for Drexel. "We are therefore compelled to move forward boldly and decisively."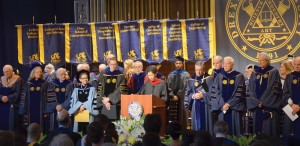 The interim provost then elaborated on key points that the administration would like to focus its attention on in the coming year. He noted the "overall shortage of research, office and classroom space," which the provost's office will attempt to address through renovations, as well as "rational reallocation" of existing classrooms to better serve the University.
Herbet also noted the steps to be taken for Drexel to retain its world-class academia, including "accelerated bachelor degrees, expanded travel-embedded course, greater use of online and hybrid courses and growth of the global classroom initiative."
After a brief greeting from Richard A. Greenawalt, chair of the Board of Trustees, President John A. Fry took to the podium. Fry was quick to note Drexel's recent fortune in receiving donations, such as the Silverman families' gift of an endowed professorship to the School of Entrepreneurship, as well as Thomas R. Kline's unprecedented generosity in giving the School of Law a $50 million gift, Drexel's largest received donation to date. Fry also announced that an $800,000 three-year National Science Foundation grant would be given to the continued research and development of smart textiles, conducted on campus in the ExCITe Center.
Fry was quick to call attention back to what he believes to be a strong reason for much of Drexel's achievement this year, by highlighting again the subject of this year's convocation, the faculty. "In particular this year, we celebrate the unique talents, the innovative spirit and the true excellence of our faculty. Our professors are the core of our identity as a great research university. Their achievements drive Drexel's reputation and help generations of students pursue knowledge and achieve success," he said.
Before introducing the keynote speaker, Paula Marantz Cohen, dean of the Pennoni Honors College, Fry made a strong point to review and renew his plans for Drexel in the coming years. "I want like to take a moment to speak to this assembled community in specific terms about my absolute commitment to all of you to keep the academic enterprise at the center of our university. That commitment has driven every decision I have made in the last four years." Fry proceeded to elaborate on how academia has remained the main focus of the university, especially with budgeting. "84 percent of our direct capital expenditure is directed to projects that serve academics, as compared to non-academic or residential purposes." This is a stark contrast to numbers from 2009, when 20 percent of direct capital expenditure went to academics. "This year, 61 percent of the president's strategic fund is being invested in academic projects. That's up from 34 percent last year and 11 percent when I started."
One of the biggest and most immediate changes Fry mentioned was that of "responsibility centered management" as a vector for budgeting. "What that means academically is that our colleges and schools who earn most of the revenue will now keep most of the revenue. They'll decide how to invest it, they'll pay their own expenses and those administrative units, in turn, must now operate with unprecedented transparency and accountability, much more than ever before." Cohen was then introduced, welcomed by Fry as "a friend and a colleague who is quintessentially Drexel."
"It may seem ironic that I am talking to you about teaching at this point of transition into administration," Cohen began, in reference to her recent appointment as dean of the Pennoni Honors College, "but it also makes sense. Taking on a new role allows me to see my teaching career more clearly and to recognize its importance in shaping who I am and what I value." Cohen cites her 32-year career at Drexel as the backbone for her understanding of how the modern university works. "I look back to my early years at Drexel with gratitude, for it was during that period that I learned to teach." Cohen's keynote address then shifted to how these years of learning have helped her to identify common defining traits of a Drexel student. "Most Drexel students can be characterized by the following constellation of qualities: curiosity, tenacity, a desire to problem-solve, a fundamental integrity and fairness, and a willingness to suspend judgment until all the facts are in."
Cohen's speech covered her time working as an English professor (now a Distinguished Professor of English) in a school dominated by the natural sciences. Her keynote concluded on an optimistic note, stating that "Drexel students, staff and faculty continue to surprise and delight me everyday, and I look forward to many sublime conversations with them in the years ahead."
Convocation continues to be an honored university tradition where students and faculty ring in the new academic year together.