The LeBow College of Business hosted an event in the quad May 6 to bid farewell to Matheson Hall and celebrate the upcoming construction of a business center in its place.
Matheson is slated to be demolished this coming summer to make room for a new 12-story, 177,500 square foot business center.
Leda Kopach, assistant director of communication for LeBow, said about 250 students, faculty and staff gathered in the quad to remember Matheson.
"Generations of Drexel students from a variety of majors had classes in Matheson. It's a building that has touched nearly everybody at Drexel during the past 50 years," Kopach said.
Current students couldn't help but express their not-so-fond memories of Matheson. Ian Swindlehurst, a senior majoring in sport management, thinks Matheson won't be missed by many students.
"I will always remember the air conditioning never working in the summer and how boiling hot it was for summer term classes," Swindlehurst said.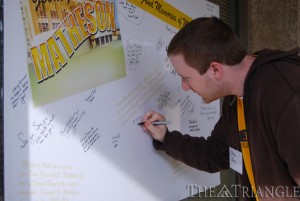 Some stories, like one from Daniel Korschun, assistant professor of marketing, also made light of the building's shortcomings.
"I've only been at Drexel since 2008 but have already had my share of run-ins with the building. The window shades in my office recently broke and fell on my computer, knocking out my '7' and '8' keys. My keyboard looks like it's lost its two front teeth," Korschun said.
Despite these problems, Matheson, which opened its doors in 1965, has still made a lasting impression on alumni over the decades. LeBow's website currently features a page dedicated to collecting memories of Matheson. Stories range from simple day-to-day routines within Matheson to chance meetings that led to marriage.
Joe Landolfi, a 2005 LeBow graduate in business administration, wrote on the site that he remembers Matheson as a place to meet up daily with friends before class.
"My best memory of Matheson Hall was arriving at 7 a.m. every morning, picking up a free copy of The Wall Street Journal and sitting in the lobby reading it while mingling with classmates. It was a fun time I will never forget," Landolfi wrote.
Faculty and students also expressed their enthusiasm over the new business center. Ange Christiani, a junior B.S./M.S. student in civil and architectural engineering, thinks the new building will become a landmark structure for Drexel.
"The pictures of the new building are really nice. It will be a big, modern and impressive building on a very prominent location along Market Street. That is the biggest problem with Matheson, and now it will be corrected," Christiani said.
Jonathan Ziegert, assistant professor of management at LeBow, believes Matheson has served Drexel well for a long time but is looking forward to the future.
"LeBow College is currently spread across several structures around campus. I am especially excited that our new building will bring everyone together to unite students, faculty, staff, alumni, business leaders and members of the community," Ziegert said.
Students and Drexel professionals used the farewell party as an opportunity to celebrate the history of an iconic Drexel landmark.
"The party was consistent with everything I've grown to expect and enjoy about Drexel. It was an acknowledgement of a piece of Drexel history, but with a nudge and a wink," Korschun said.
By the conclusion of the event, all agreed that Matheson Hall was given a proper farewell.