Washington Post journalist and Pulitzer Prize-winning reporter Joby Warrick spoke to Drexel University students May 9 about the CIA's misplaced trust in a rogue Jordanian spy turned al-Qaida operative.
Warrick's lecture, which was co-sponsored by Drexel's Office of International Area Studies and the Drexel Arabic Language Association, told the story of the spy, Humam al-Balawi. Balawi, a doctor turned terrorist who walked into the CIA's secret base in Khost, Afghanistan and killed seven prominent CIA officials Dec. 30, 2009.
Balawi was a known dissident, having professed his anti-American opinion on numerous Internet blogs and chat rooms prior to recruitment. The Jordanian intelligence service captured Balawi and tried to turn him into a double agent for the United States and Jordan.
After a long disappearance, Balawi re-emerged with highly coveted intelligence, especially in regard to Ayman al-Zawahiri, al-Qaida's second-in-command.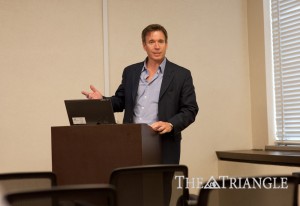 Worried about the possibility of counterintelligence, U.S. officials had all of the Afghan guards turn their faces and personally escorted Balawi through four different sets of security checkpoints. Despite these precautions, Balawi carried out his suicide attack upon arriving at the base.
The question-and-answer session at the end of the lecture brought up a diverse range of topics ranging from journalistic ethics to drone legality.
Warrick spoke about how hard it was to obtain information that the White House wants classified.
"The CIA press officer is one of the best jobs in the world," Warrick joked. "You just sit back and deny everything."
Warrick then offered advice to future journalists.
"Find a topic you're really interested in, and stick with that beat. Being able to write news stories doesn't matter much because you learn that as you go. When you write in a way that's compelling and makes sense, that's what is exciting about this job," he said.
Warrick's book, titled "The Triple Agent: the al-Qaeda Mole Who Infiltrated the CIA," is currently available for purchase.