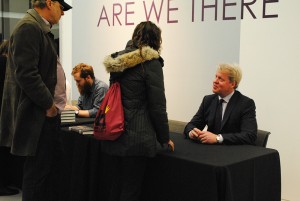 Earl Charles Spencer, brother of the late Diana, Princess of Wales, visited Drexel University's URBN Annex Center Jan.22 to discuss his newest book, "Killers of the King: The Men Who Dared to Execute Charles I," and to talk about what it's like to run an aristocratic estate in the 21st century.
Spencer, a renowned print journalist, historian and writer, has five books published, on both his family's and his estate's history as well as pieces of England's history. His latest work has received a lot of praise, with The Times calling it "a clever and illuminating book" and termed "a sometimes grisly nonfiction thriller" by Vanity Fair.
"It's got violence, vengeance, intrigue … it's kind of like a 17th century [crime scene investigation] and the guys are wearing tights," Karen Curry, long-time friend of Spencer's and also executive director of the Rudman Institute for Entertainment Industry Studies in the Westphal College, said.
Curry opened the event with a few comments on the book, Spencer, and her friendship with him, which dates back to when he was 22. Curry was working on NBC's "Today Show" when Spencer began working there. She remembers his start on "The Today Show" fondly and mentioned that his first piece on the show was one of the most "polished, professional pieces" she had ever heard from someone his age. She also characterized Spencer in a brief interview after the event: "He's a very curious person, and he's … always exploring the world."
After Curry's opening remarks, Spencer took the stage to summarize the most exciting points of the book for the audience. "Killers of the King" is a nonfiction historical book focused on the regicide of King Charles I in 1649. In his time, there was a bloody civil war in England that over a disagreement between the king and Parliament. The transcripts of the court proceedings for the trial of the king were so impassioned, Spencer said, that they make the reader realize that "the Civil War wasn't just about politics, it was about religion and what you really fundamentally believed in. … Did you really believe that a man could be made king, answerable only to God, or did you believe that a king was there to serve the people?" It was decided that Charles was indeed guilty, and he was sentenced to death; he is the only British monarch to be executed by his own parliament.
In spite all of this, Charles went to his death bravely. He wanted to show his people that he was still a king all the way up to his death, to make them see what they were doing and to leave an honorable memory with those who still followed him. "Charles was fixated on things … that really would seem very trivial in the circumstances where you're about to lose your head. … The block where he was going to have to lay his neck was only six inches high and he thought that was very undignified … but he did make a very brave final display of kingship on the day, and that was problematic for those who killed him later on, because his followers saw him as a martyr and then later, a saint,"  Spencer said.
After the killing of the king, an 11-year period followed when England had no monarchy. Finally, Parliament decided that what the new system wasn't working and that it was time to find a new king — so, they naturally turned to the son of Charles I, and pronounced him Charles II, King of England. Unfortunately for the killers of the king, Charles II harbored a lot of vengeance regarding his father's death, and he sought the killers once he came to power. Spencer described the ironic and unfortunate ends of most of these men in his talk, and the majority of the book is focused on exploring the fates of all 59 men who signed the death warrant.
Killing the king was something that had never been done as an act of the people of England before this event, and the results had critical impacts on England's (and America's) history. During the 11 years without a monarchy, the very first taste of independence started to leak into the American colonies. The leaders of England who were put in place for the time being while Parliament tried to sort itself out and were much too preoccupied with their own land to worry about the New World. Thus, the nascent colonies had time to develop in a more or less uncontrolled environment. It was in this period of time, according to Spencer, that the first American coins started to be used without a king's face appearing on them, after which the trend grew and continued. Additionally, certain regicides fled to America to hide in exile, and they had remarkable impacts as leaders and everyday people on the places they chose to hide.
After he finished discussing his book, Spencer had a question-and-answer session with Curry that was then extended to the audience. In this time, Curry asked Spencer much about the Spencer family estate, Althorp. Following his father's death in 1992, Spencer inherited Althorp when he was 27. Today, the entire right wing of the house is completely private, although the rest must be kept open to the public for a set number of days per year under British law.
Spencer was also asked about his connection to the royal family and whether or not the patriarchy and aristocracy had any real power in this century. He responded, "What is the royal family today? Well, the royal family today is a great unifier. … It's a symbol, and it's a potent symbol."
As for being close to that family, Spencer said that the best way to use a power like nobility or royalty is to try to get people who like you to also like good causes that you support. He said, "There are an awful lot of people like me who are trying to do good in the modern world." An obvious example of a philanthropic member of modern royalty is Spencer's late sister, Princess Diana. After her death, Spencer created a memorial to her and her work in various charities and foundations and opened it to the public. All ticket sales went directly to those works she participated in during her lifetime.