The Department of Public Safety's Commendation and Award Ceremony and Police Officer Induction was held Nov. 5 in the Mitchell Auditorium of the Bossone Research Enterprise Center.
The efforts and accomplishments of emergency medical technicians, police officers and detectives, telecommunicators, AlliedBarton Security Services workers, and the assistant director of emergency preparedness were honored. The Drexel Police Color Guard, along with bagpiper John McGinty, began the ceremony with a musical tribute. Jericho Taylor sang the national anthem.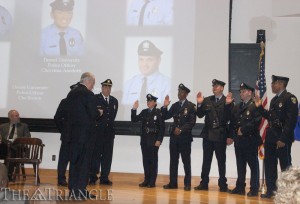 Five new Drexel Police officers were inducted: Charles Phillips, Justin Reader, Chrystina Amelotti, Che Brown and John Heleniak. Student EMTs Allison Brophy, Eric Baranoff, Hendrik Bilek, Peter Louis, Ekta Panjrolia and Eric Williams were honored for the critical role they play in first response to emergencies.
Vice President of Public Safety Domenic Ceccanecchio gave opening remarks, and recently retired Director of Fire and Life Safety Armour Floyd announced and revered the stories of the men and women in the force who committed great acts of valor on Drexel's campus over the past year.
Drexel's Department of Public Safety works closely alongside the University of Pennsylvania's. Throughout the night, an emphasis was placed on the similarity of crime at the two schools and the cooperation between each that is tirelessly maintained.
Members of the University of Pennsylvania and Drexel University police departments were honored for their work over the summer. A task force comprised of Joseph Devine, Henry Dunbar, James Bonner, Chris Vandervort and Robert McKellick was established to address a series of bike thefts occurring on both campuses. On July 26, a fake bike was set up at a strategic site and put under surveillance via closed-circuit TV. When the offender cut the lock and fled with the bike east on Ludlow Street, he was caught by the team.
The valor of Drexel Police in the beginning of October was also commended. On Oct. 3, Drexel Police responded to an unresponsive civilian lying face down on the 3200 block of Market Street. Police Officer Thomas Cirone arrived to find civilian Ray Robinson unresponsive on the sidewalk. Cirone checked the male for vitals and found him to have no pulse. Cirone notified dispatch and requested additional personnel. Police officers Seth Kanner and Charles Lashley arrived, cut open Robinson's shirt, and began CPR. Lashley retrieved an automatic external defibrillator and applied a shock with no immediate effect. After a third shock, Robinson's heart rhythm stabilized, and he was brought to the Hospital of the University of Pennsylvania, where doctors said he would have died without the prompt response of Drexel Public Safety.
The work of Irene Opendak, the leader of the University's emergency preparedness plan, DrexelReady, was also honored. Opendak has developed strong operations within the University and was honored by the Order of the Sword and Shield, an academic and professional honor society, this year.
Drexel's Department of Public Safety aims to protect by paying attention to detail, Ceccanecchio said.
"We're here not only to prevent and solve crime," Ceccanecchio said, "but to make sure that people get through their day in many different ways as safe as possible."
Junior nursing major and EMT Allison Brophy was honored for her act in saving the victim of a fall at 30th Street Station last December.
She remarked on the mindset of her colleagues, "I think it's a personality trait that most people involved in this have."
Drexel EMTs go through over 200 hours of lectures and hands-on lab training before taking Pennsylvania's EMT preparedness test. Drexel Emergency Medical Services does not offer its course or program through the University but operates independently as a student group on campus. The organization is growing and holding orientations so that people can learn about it and decide if they want to join.
Last year, Drexel EMS was voted student organization of the year under the direction of Floyd, who served as its professional staff adviser. Floyd expected no less of the student volunteer EMTs than what is expected of employed Public Safety officers, and perhaps that is why their efforts shone so brightly.
After the ceremony, Floyd stressed how Drexel is a city in itself, requiring its own distinct safety measures.
"Drexel University, and any university for that matter, is just like a city. The only thing that we don't have is a firehouse. We have industry, office buildings, we have residence halls, you name all the different types," Floyd said. He also said that there is a diverse amount of crime on campus that must be continuously monitored.
After 20 years of service for the Philadelphia Fire Department, Floyd arrived at Drexel in 1991 with expertise in the field of fire safety. There was no program in place when he arrived, but eventually he became the director of fire and life safety for the University in 1994. He oversaw a movement to have all residential facilities fully equipped with sprinklers, and he also supervised the institution of an emergency response team.
"[We] had to create programs and different policies. It took a good 10, 12, 13 years to actually get the program up and rolling," Floyd said.
The EMS student organization on campus is relatively young, with about 40 members and counting — small in comparison to student EMS squads at other universities.
"You can only do so much here because you do have the Philadelphia Fire Department that provides EMS services in addition to, not in lieu of. We can't transport yet. Our job is to stabilize — Philly transports," Floyd said. However, Drexel EMTs respond to the scene of accidents and crimes minutes before the Philly rescue squads arrive, providing initial assistance.
Drexel EMTs hope to eventually be able to transport victims via emergency vehicle. The City of Philadelphia manages this currently, prohibiting Drexel's involvement. Drexel does not yet have the money or manpower to transport.
Looking forward, Drexel EMS is on the threshold of instituting a campuswide AED CPR program that should be fully functional by the end of the year. The main goal of the program is to have at least two people in every building certified in CPR and eventually to have one AED in all buildings on campus.
"My guys here are going to do it!" Floyd said.
The Department of Public Safety's ability to do what they do is remarkable. Brophy put it simply, "[We] focus on a problem and how to fix it."