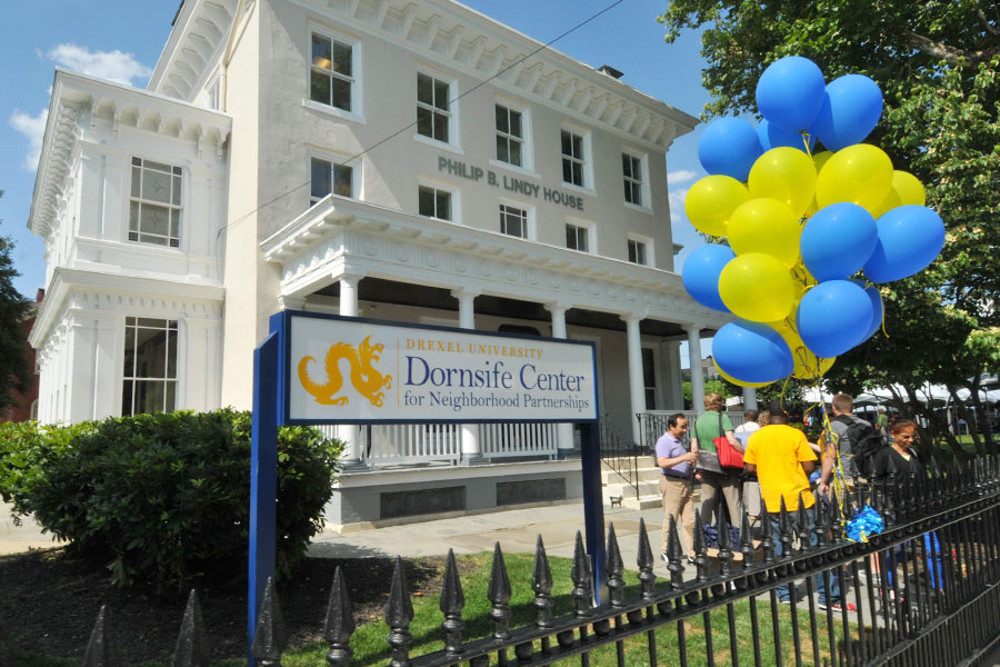 A partnership between Drexel University and the surrounding West Philadelphia neighborhoods has led to the creation of the Community Wellness Hub, a health service program that opened this year.
The carriage house behind the Dornsife Center for Neighborhood Partnerships serves as the base for the program. It's on Spring Garden Street where University City borders Powelton Village. It was neighborhoods like Powelton Village that helped to shape the Community Wellness Hub into what it is today.
Residents of the Powelton Village and Mantua communities were able to voice their health concerns in focus groups held by researchers from Drexel University. The program was built on the results from these groups and one woman's determination to truly give the community the health services they want.
Back in 2015, Loretta Sweet Jemmott led an initiative at Drexel called We're Here Because We Care: Building Healthy Communities Together. Dr. Jemmott is the current Vice President for Health and Health Equity in the College of Nursing and Health Professions and has worked in community engagement for years.
Marcia Penn and Maeve Malloy work closely with the program, on the second floor of the carriage house.
According to Penn, executive assistant to Jemmott, the title of the initiative encompasses what they do there day to day.
"The initiative is about listening to the members of the community, to hear their health concerns," Penn said. "That's how the Community Wellness Hub came to be."
For Malloy, a keen interest in this program led her to begin working at the Hub in July.
"I was really attracted to its focus on community health and really empowering the people that live here rather than just giving them health things that everyone assumes that they want," Malloy explained.
Malloy is a recent college graduate and a member of AmeriCorps Vista, a federal program whose participants serve in a project identified and managed by the community.
The Community Wellness Hub opened its doors April 11 of this year. It is open Tuesday through Thursday each week from 10 a.m. to 7 p.m., and one Saturday per month from 9 a.m. to 2 p.m. The program is open to everyone.
It offers offer a variety of services like health screenings and behavioral health counseling, and has a senior group that meets once a month. This group does also does activities unrelated to health.
"We've done health bingo with them and we've done yoga with them. I think that the next thing on the list is talking about identity theft," Malloy said. "They also want to talk about things that don't have to do with health, but also are protecting them."
Both Penn and Malloy enjoy the work that they do with the Community Wellness Hub and even have a few favorite parts about it. For Penn, it was all about hearing from the community.
"I'd say that working with the community is one of the most enriching parts of what we do because it's good to hear from the community — hear their voices, understand what they are," Penn said.
For Malloy, it was all about the people she's met and what each day brings.
"The most memorable thing that I will carry with me is the people that I've met and the people that I work with. Every day is different. Every day is like a whirlwind of different activities," Malloy said. "I would probably have to think hard about my favorite day but every day is great because of the people I work with."
The goal of the Community Wellness Hub is to promote community-driven health programs that start in University City, then span into all the communities in West Philadelphia and beyond.