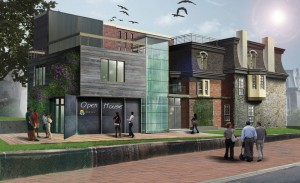 The World Green Energy Symposium announced Drexel Smart House as the recipient of the 2011 WGES NOVA award Oct. 1 because of its student-led initiative to construct an urban home with innovative technology, energy efficiency and environmental consciousness.
Held annually in the U.S., the WGES emphasizes the role of government-led programs and private industry advancements as well as consumer, student and citizen responsibilities to implement "green" initiatives. The Symposium showcases alternative and sustainable product development and green energy opportunities.
Along with honoring Drexel Smart House, the WGES will also recognize the city of Philadelphia for the Greenworks program and the country of Brazil for the strategic sustainability plan in place in Rio de Janeiro.
Drexel Smart House was founded in 2006 by undergraduates of the Pennoni Honors College. It is a student-based, multidisciplinary project to build a "living laboratory" by use and integration of innovative design and technology. Drexel Smart House will renovate a late 19th-century Powelton Village residence into a modern paradigm for sustainability.
Chris Baccash, vice president of external relations for Drexel Smart House, expressed gratitude for all those who have contributed to the project's success.
"Although I have been asked to provide a statement, I feel that most, if not all, of the credit should be going to others. I applaud the Drexel Smart House research teams for their ingenuity and drive to receive not one, but two EPA- P3 [People, Prosperity and Planet] Awards and over $150,000 in grant money," Baccash said.
Drexel Smart House has raised more than $300,000 in research funding through grants and awards.
Baccash continued, "I thank our advisers [at] Drexel for giving us the work space and guidance needed to progress, and of course DSH is honored to receive this award from WGES. As for myself, I am excited. I am looking forward to the opportunities that the Symposium and the NOVA award will present DSH with."
According to a Drexel Smart House mission statement, "Participants will conduct research and develop designs in the areas of environment, energy, interaction, health and lifestyle with the ultimate goal of improving quality of life in the urban residential setting."
The WGE Symposium will be held Oct. 19-21 at the Pennsylvania Convention Center.
Drexel Students qualify to attend the Symposium at the special rate of $25. The discounted tickets are limited and will be distributed on a first-come, first-serve basis. Information and registration details for the Symposium can be found at www.2011wges.us