Drexel University recently signed a collaboration partnership with the Shanghai Advanced Research Institute. The partnership will include a research initiative between a Drexel professor and SARI's life science department, President John A. Fry announced Oct. 19 in a press release.
Located in Shanghai, the Drexel-SARI Center will be a source for international research, internships and co-ops in China for members of the Drexel community. SARI and other institutes within its parent organization, the Chinese Academy of Sciences, will oversee the collaboration.
Wei Sun, the Albert Soffa Chair Professor in Drexel's College of Engineering and School of Biomedical Engineering, will be one of the first Drexel professors to conduct research at the new center, as he will lead a joint research initiative with scientists from SARI's life science department. They will be applying 3D cell assembly technology to generate in vitro cellular cancer models used for drug screening testing.
"I think that Dr. Sun will be able to set up a laboratory and begin working with some graduate students relatively quickly," Julie Mostov, the vice provost of global initiatives at Drexel, said. "It's a question of when they can get the labs together and when they can get graduate students and so forth."
Mostov said she expected that Sun and his team would begin conducting research before January, and that the center will likely officially open May or June of 2012. She and others involved in the partnership between Drexel and SARI were able to meet their October deadline for finalizing certain project components.
Dr. Jiang Mianheng, the vice president of the Chinese Academy of Sciences and the president of the Shanghai branch, helped make the Drexel-SARI Center possible. The son of Jiang Zemin, former president of the People's Republic of China, Mianheng received a doctoral degree in electrical and computer engineering from Drexel's College of Engineering in 1991.
The center will be located in one of the buildings of the SARI in the Shanghai Pudong Science and Technology Park, which also houses a hospital, dormitories and hotels located within its million-meter perimeter.
"[The Drexel-SARI Center] will be a place where you can integrate all different areas of research that you might want to, making use of translational research and innovative projects," Mostov said. "It's going to be a place where a lot can happen collaboratively."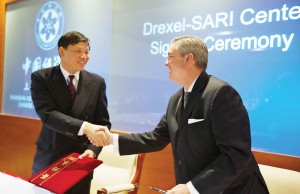 Mostov was one of the Drexel representatives at the official signing ceremony in Shanghai, where Fry and Mianheng announced the partnership. She also accompanied Fry to China last May when he and Shanghai Jiao Tong University Vice President Lin Zhongqin signed an agreement for a dual doctoral program in biomedical engineering.
"We met a lot of people, generated a lot of excitement in China for programs, and we're hoping this will get a lot of students and faculty involved in China. We're hoping for student research projects, student co-ops, studies abroad — all of those things," she said.
Mostov added, "[The partnership] is wonderful for everybody, and it gives us great visibility and prestige in China. But now there's a lot of hard work."
One Drexel engineering professor has already begun collaborating with SARI colleagues at the Drexel-SARI Center. Yury Gogotsi, director of the A.J. Drexel Nanotechnology Institute, is in the middle of expanding his study of nanomaterials for biomedical applications.
"My research group works on carbon nanomaterials for biomedical and energy application. We specifically plan collaboration with one of the units of SARI Center for Nanomedicine and Center for Translational Medicine, directed by the Shanghai Advanced Research Institute, Chinese Academy of Sciences," Gogotsi explained in an email.
Though he is still in talks with his colleagues at SARI, Gogotsi is interested in working with diamond nanoparticles, which are five nanometers in diameter, or 10,000 times smaller than the diameter of a human hair, for drug delivery, tissue engineering and fluorescent markers.
"China currently manufactures more than 60 percent of diamond nanopowders produced in the world, while the U.S. does not have its own commercial production of detonation nanodiamond yet. Thus, it is very natural to build this kind of collaboration combining the materials produced in China with the U.S.-developed technology for purification and surface modification to produce drug delivery systems, implants and fluorescent nanoparticles for imaging and sensing," he said.
He added, "It is very important for the future of Drexel to become known internationally, and a partnership like this one is an important step in the right direction."
Fry made the official announcement of the collaboration while in Shanghai, where he and important members of the Drexel community, including Mostov and Provost Mark Greenburg, met with Mianheng and his team at SARI.
According to Mostov, the idea for a joint research center stemmed from Fry's visit to China last May when the president, Mostov and the other Drexel representatives on the trip toured SARI and dined with Mianheng and his colleagues.
During the discussion, the SARI team began discussing the institute's future, and the Drexel representatives proposed developing a joint center. Once back at Drexel, Mostov put together a project proposal and worked with Mianheng to modify it before sending it to Fry for approval.
Now that the partnership is official, the University will create a steering committee and take the next steps to build this joint project, including creating an advisory board that will meet annually to discuss the Center's progress and completed work.
"The advisory board is obviously the president of Drexel, the president of SARI, the president of Shanghai branch — our alumnus — and two other people from [Drexel]," Mostov said.
A steering committee will also be formed of Drexel staff, like Mostov and the vice provost for research, and the SARI equivalents, who will be more directly involved in the running of the systems. A lead scientist from Drexel will also be appointed for the Drexel-SARI Center. This person will act as a co-director for the Institute and a full-time representative for the University.
"Eventually, we'll have a logistics person who will … make co-op connections and industry connections, and develop our partnerships everywhere else so that it will be like Drexel's home in China," Mostov said.
The Drexel delegation that accompanied Fry to Shanghai to make the official announcement of the partnership with SARI also met with representatives of the Chinese Ecosystem Research Network, an organization that holds a number of sites across China and Mongolia. The Network specializes in monitoring and studying climate and ecosystem changes. In December, a group of professionals from CERN will visit Drexel's campus to discuss developing partnerships with the new Biodiversity, Earth and Environmental Sciences department that will be launched in the College of Arts and Sciences later this year.