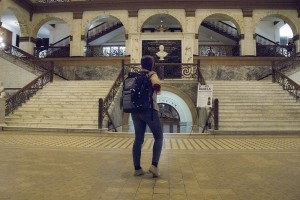 Drexel University's decision to introduce a $50 application fee for prospective students has brought applications for the class of 2019 down by more than 50 percent compared to last year. According to Drexel officials, the mere 27,424 applications received this year are all a part of Drexel's latest admissions strategy — attracting a more serious applicant pool.
The addition of the $50 application fee came in tandem with the death of Drexel's infamous "VIP fast application," which offered potential applicants the chance to apply without essays, recommendations and essentially, without any added stress.
"It made it very easy for students to apply at the click of a button. Our applications over the last eight or nine years just skyrocketed," Randall Deike, Drexel's senior vice president for enrollment management and student success, said.
The "VIP fast application" brought Drexel over an increase of over 300 percent in applicants. With this rise in applications, Drexel faced a decrease in the percent yield of accepted students who actually enrolled. This led to the University accepting around 80 percent of its applicants just to enroll a class of 2,925 freshmen.
"If you're a college and you exist, chances are that you've had this problem,"  David Hawkins said. Hawkins acts as the executive director for educational content and policy at the National Association for College Admission Counseling.
"With the number of students applying, colleges have been much less certain as to which students will actually attend if they're accepted," Hawkins explained.
So when officials instated the $50 application fee last year, they made the conscious decision to have a smaller but what they believed would be a more informed applicant pool of students who had researched Drexel and were interested enough that they were willing to pay to apply.
By dealing with a more sincerely interested applicant pool, Drexel hopes to increase their percent yield between students who apply and students who enroll. The University is also hoping that this strategy will raise its six-year graduation rate from 67.3 percent to around 80 percent and escalate the freshman to sophomore retention rate from 84 percent to 90 percent.
According to U.S. News and World report, a popular media company that many families rely on to compare college statistics, Drexel's acceptance rate is rather high and the University's retention rates are not where they should be.
"They compute this index; they take pre-enrollment characteristics, like SAT scores and class rank and a couple of other things. They predict what they think our graduation rates should be and our actual graduation rate is under that," Deike said.
"All of these steps we're taking are really about making sure [they were] attracting and enrolling students that know us well and that we're supporting them until graduation. Student success is the key. If our retention and graduation rates were higher, it would help us in the rankings. I mean, that's a positive side-effect — we're not doing it for that reason, but I'll take it if that's a part of the outcome," Deike continued.
Drexel's new admissions process also integrates the help of associate deans in implementing 'holistic review' — looking at not just GPA and SAT scores but all the credentials presented by a student. Associate deans are helping to determine the criteria for the respective colleges and programs they work with and gauging what characteristics make students successful in their schools. This means that potential students will be judged much differently depending on what major they apply under.
With all of these admissions changes taking place in only a year, there's no way to predict exact results.
"The circumstance that Drexel is in, strikes me as a potential trend that we could be seeing more of. The solution they're looking for — to stabilize their yield rates and to not generally disrupt the institutions profile. The response is simply to be looking for students who are really interested from the very start," David Hawkins said.
Deike said that with all of these changes, there is no way to predict the exact enrollment yield, but he is confident it will be higher.