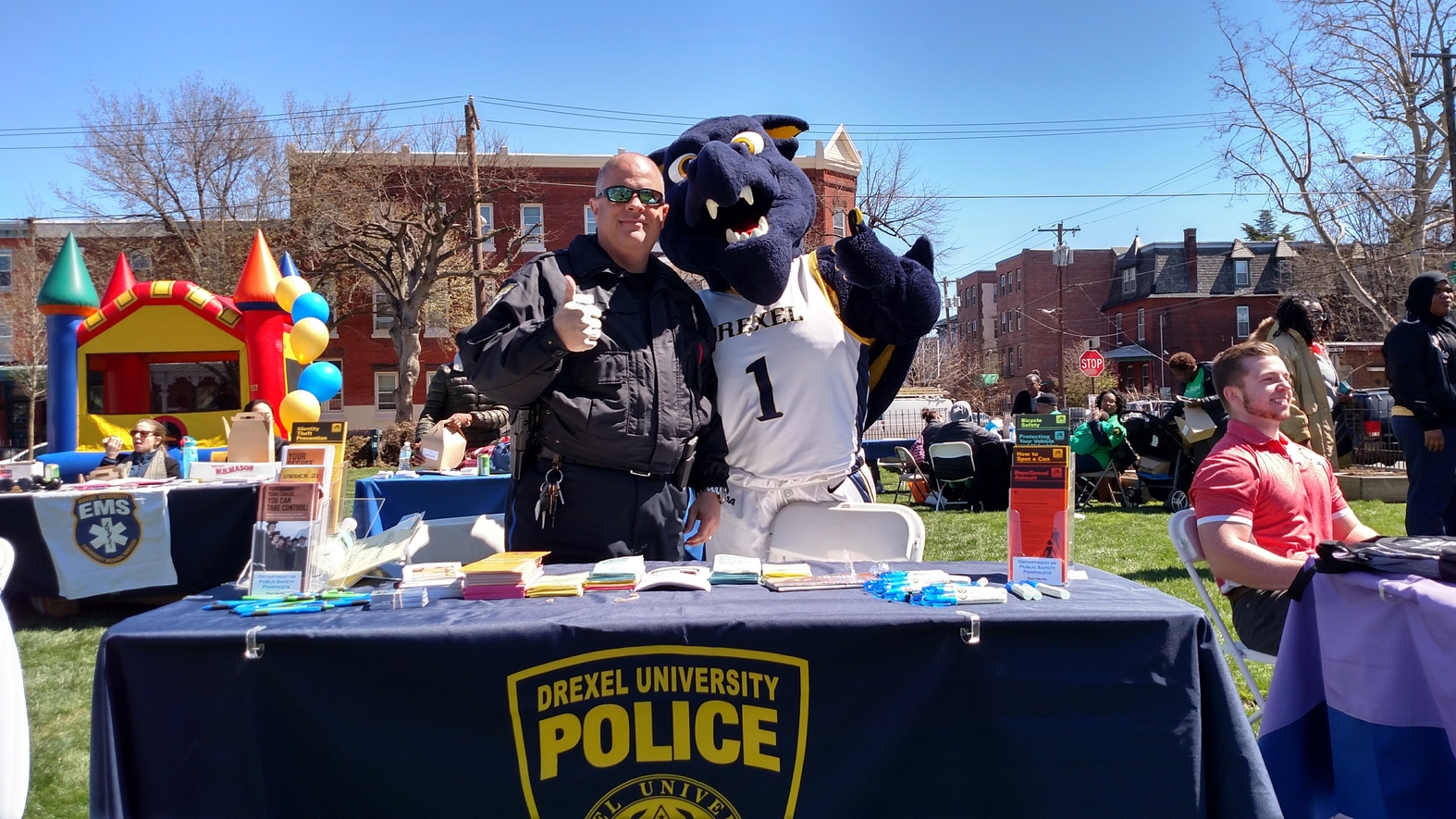 The Drexel University community and its neighbors are invited to engage with university police officers over free coffee and other sweet treats at two campus locations Oct. 3 as part of National Coffee with a Cop Day.
All students, faculty and other members of the community are invited to partake in the national event, which aims to increase trust and cooperation between police and the people they serve, at Saxbys from 8 to 10 a.m. and Wawa from 11 a.m. to 3 p.m.
"It's to bridge that gap," Thomas Cirone, Jr., a community relations police officer at Drexel, said. "It shows that we're not just hard, stiff, robot-talking people."
Cirone, who has been policing at Drexel for about seven years, will be joining other members of the university police department alongside additional officers from the overlapping University City Police Department to provide public safety information to passers by who will converse with them, in hopes of encouraging positive relations between the community and law enforcement agencies beyond this singular event.
"It's community policing to its core — that's what it is," Kim McClay, a fellow community relations police officer at Drexel added, reiterating the pledge of the National organization, which was first officially enacted by the Department of Justice in 2016.
Both Cirone and McClay hope the event will inspire students — as well as other members of the community — to learn more about public safety on Drexel's campus.
They will get to know their police department and learn about what resources are available to keep them safe, Cirone said, explaining how he hopes it will help students to open up.
"Maybe there's concerns students have that they normally wouldn't think to just come over and talk to a police officer — now they can," he said.
This, Cirone said, will be extremely valuable to students as they live on campus and beyond.
"They'll learn a little bit more about Drexel and just public safety that they can take with them anywhere," he said.
He said the event will also be an opportunity to promote their registration program the Drexel Police Department now offers, in which valuables including bicycles, phones, laptops headphones and even instruments are documented and assigned a registration number to deter potential thieves and provide law enforcement with crime-solving information.
But while he is excited to share safety advice and tips with students, he said he is also looking forward to conversations unrelated to public safety.
McClay emphasized that the event will be about building connections more generally.
"It breaks down the barriers," she said, adding that it is important for officers to be approachable community figures.
Both McClay and Cirone said the event signifies the department's goal to offer a continuous mode of open communication year-round.
"They can call anytime, they can stop here anytime," Cirone said, explaining how the department welcomes all communications, whether students or community members need help dealing with a crime, career advice or even assistance through a crime-related project.
The department, which is currently headed by Chief Eileen Behr, who is also vice president of public safety on campus, is consistently committed to alerting Drexel and the neighboring communities about their offerings so that all community members can take advantage of the various programs and services that they offer, McClay explained.
According to McClay, the department has been conversing with various student organizations like student government, as well as other aspects of campus life, including the residence halls, to keep the campus informed as possible.
National Coffee with a Cop Day, she said, is just a single part of this overall mission.  
"We really want to commit the resources to letting people know about our police department, the programs that we offer, and making sure they know that we are approachable and that we're here as a resource for them," she said. "This is just another avenue for us."