Drexel University bought a 3.6 acre piece of land on John F. Kennedy Boulevard to be used as the gateway for the main campus in University City, President John Fry announced in a press release June 28.
The 156,234 square-foot property, which is currently used as a parking lot located behind Caneris Hall, was purchased for $21.8 million.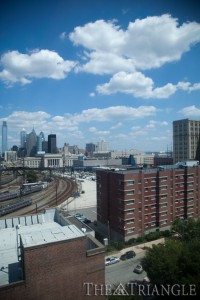 "The prime location of this site will significantly enhance Drexel's capacity to be a powerful engine for regional economic growth. It provides various options not only for the development of the space for classrooms, research and other academic facilities, but also for sources of revenue for Drexel through potential residential and retail opportunities," Fry said in the press release.
A total of four parcels of land, known as 3001, 3003, 3025 and 3051 JFK Boulevard, were purchased from the L&R Group, the majority stakeholder.
"Potential uses of the site include: the growth and expansion of the University's academic and student life facilities, the development of commercial spaces for retail and office use and the opportunity to build a major research and technology transfer hub," the press release stated.
Plans for the development of the land are still preliminary, but both the acquisition and position of the recently acquired land will tie in to Fry's vision of expanding Drexel that he spoke about at his inauguration in April.
In his inauguration Fry spoke about strengthening Drexel's neighborhood initiatives and community partnerships while developing strategies for putting these principles into action.
According to the press release, some of Fry's neighborhood initiatives include expanding the various security patrols located around campus, sprucing up the city streets, providing financial incentives for employees to buy homes within key neighborhoods in West Philadelphia, adding more housing for students, creating partnerships with neighboring public schools and developing retail space on major streets in and around Drexel.