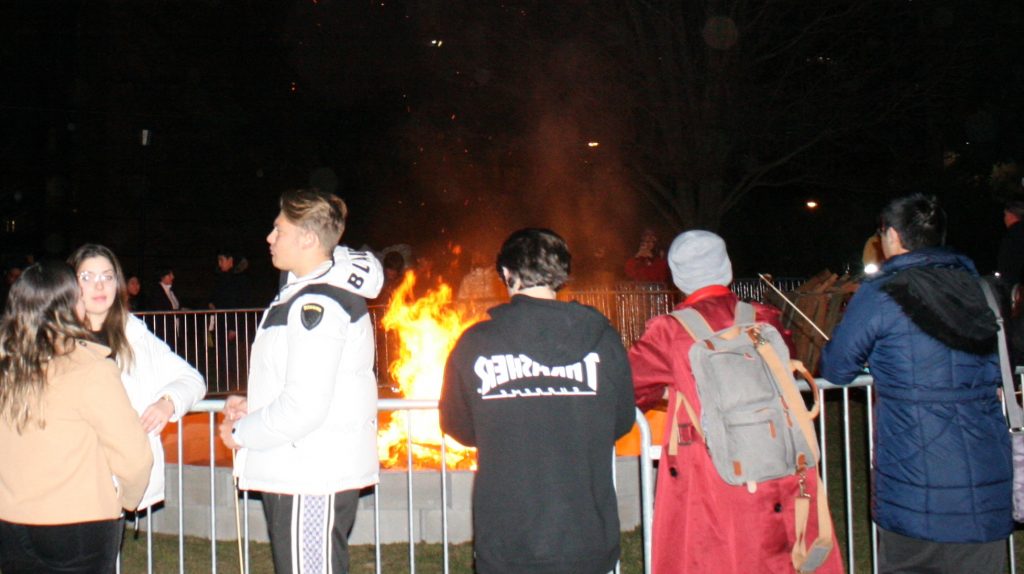 Out of all the traditions of Drexel University, Homecoming week must be one of the most special ones. It is a good way for current and new students to learn and experience new things. One way they can do both is at Homecoming week's bonfire event.
The bonfire happens on Race Street Lawn, and there are also outdoor fire pits where students can toast marshmallows and chat. "I think it's a good time to get together and have good school spirit," says Emma Hobby, a second-year Marketing major and a dance team member.
It is also a place to relax and get together with other students after a long day of classes, given that it happens on the first day of the second week of the winter quarter. "It's fun and makes me feel connected to everyone," says Abby Choy, a first-year Mechanical Engineering student. Abby also thinks that this event is "very exciting" to kick off Homecoming week.
Aside from what people can do at the bonfire, it is a good way for students to learn what Homecoming week is about. "Homecoming in a few words to me is about reconnecting with students after winter break and reestablishing that Drexel pride and to engage school spirit during the winter," says Kaitlyn Delengowski, the director of special events for Enrollment Management and Student Success. This week she wants students to show how "we have pride in our fellow dragons."
"We have window decorating in the rec lobby, Quizzo happening in PISB 120 and an assortment of basketball game tennis matches, wrestling matches, on Homecoming weekend," says Delengowski. It is important to attend given that as Drexel University continues to grow as a university there is a need to keep traditions alive so that its spirit stays active, which makes attendance at these events critical.
It is not just student life involved in making this event happen but also the dance team who did a routine at the bonfire in the dark to boost morale. For Eliza Covello, another dance team member and second-year Marketing student, "This is a really good bonding experience for our team." Covello thinks that performing at the event is "a lot of fun especially being a part of the dance team and that we get to perform at all the events and be a part of the game."
Further, this event kicks off a bunch of other university-spirit-filled events during Homecoming Week.
There are many special week-long events at Drexel University and Homecoming Week is one of them. What is special about this week is that first-time students have a chance to express their newly found school spirit while upperclassmen can feel reconnected to it and still feel like they are a part of this college and what better way to fan the flame for it at the Homecoming week bonfire celebration.