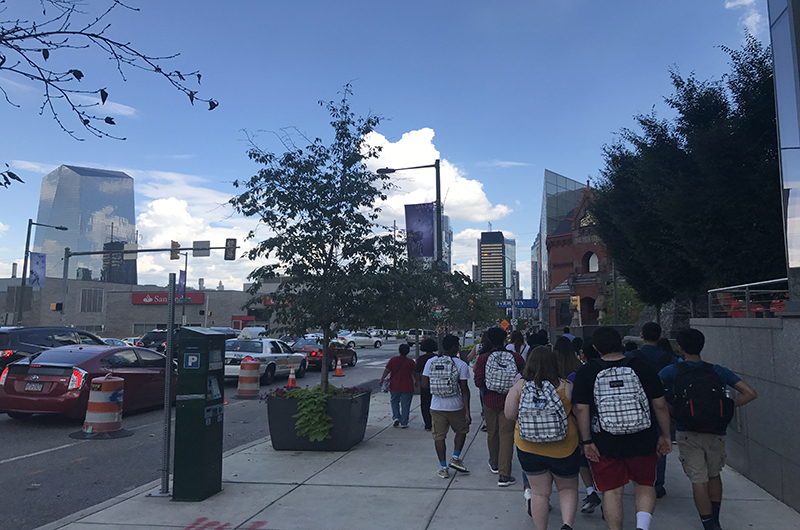 Incoming freshmen received a "Welcome Week" treat during move-in weekend — a smart backpack that hasn't hit the shelves yet.
About 2,500 of these backpack were given away to new students at the Daskalakis Athletic Center Sept. 16-17.
While these backpacks look like common vessels used to transport books, laptops and papers from class to class, they are unique. A coding system is woven into the plaid stripes on the backpacks and when scanned by a smartphone, the owner's information is displayed by an app. The owner can choose to share their social media links, or even their favorite song.
The coding in the fabric works similar to QR codes or barcodes. The fabric is stitched into a unique pattern which allows each backpack to be distinguished from another.
"Each backpack has a specific code and then it talks to your phone. It's a pattern that's woven inside that has some recognition," Genevieve Dion, the director at the Center for Functional Fabrics at Drexel University, explained.
The barcode was first invented by Drexel graduates over 75 years ago, so it is appropriate that Drexel students would be some of the first to test out this new technology that integrates what was introduced by their predecessors.
"The textile itself is normal yarn, but what is very special is that it is being made to communicate and in order to communicate each of them has to be unique…These [backpacks] are made of regular fiber… what makes these bags smart is the system interaction," Dion said.
Dion is working closely with Advanced Functional Fabrics of America, an organization with the goal to expand the realm of technological fabrics. She helped to develop laptop sleeves with the same technology.
This technology could help freshman connect with each other, as their personal profiles are a quick scan away with an iOS app called "Looks." Some concerns have been raised about privacy and Dion recognizes that.
"I think with every new technology come unintended consequences and things we have to think about … If you don't want to put any information about you on the app you don't have to … I can see the concerns and they are being addressed as we are moving forward."
She also added that there are ways to keep your information private until you connect with each other.
The backpacks were produced by JanSport, a member of the organization Advanced Functional Fabrics of America. JanSport has not yet priced the backpack, as they will not be commercially available for over a year.
"It's not commercially available because it's still in the beta stage. We're really testing it and seeing how it is going to work and people's response," Dion said.
Dion and Yoel Fink, the CEO of AFFOA and a professor at MIT, were giving away these backpacks at Welcome Weekend. 1200 of these smart backpacks were also given out to MIT freshman in August.
"Students were really enthusiastic and intrigued … The response was good. People thought it was really interesting and in fact I saw a lot of people wear them," Dion said.
Incoming freshman Alyssa Dunne, a graphic design major, did not pick up a smart backpack as she already purchased a new backpack for this year.
"I think it was a very generous gift for them to give to all the freshman. It is a great way to meet new people and have something to connect with," she said.
It is Dion's hope and the aspiration of AFFOA that the United States can someday become a leader in technological fabrics.
"The fabric [for the backpacks were] woven in the United States, in South Carolina. That's really important because we want to manufacture in the U.S."
These smart backpacks show the possibilities for the future of technological textiles. Dion sees potential for the future of smart fabrics in America.
"What we are trying to study and understand is how we can push the boundaries of regular textiles and turn them into devices so suddenly [our] clothes can become the device itself, so we like to call them garment or textile devices."