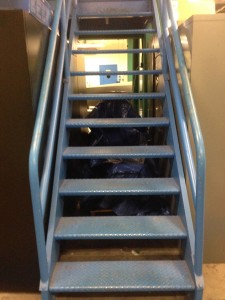 Tucked deep within the twisting corridors of Drexel University's oldest building sits a small office, 072-C, equipped with a few computers and more than enough chairs. Across its threshold there can be seen an unassuming tarp, notable only for its striking blue color and contrasting lack of dust from its surroundings. Underneath that cover rests the Drexel Formula SAE team's car chassis, hidden away and out of sight — not for lack of interest, but rather space.
Many clubs and organizations on campus have had to work around frequent changes in space availability over the past few years, with Drexel's two racing teams, Formula SAE (formerly, SAE was the Society of Automotive Engineers) and Formula EV (for "Electric Vehicle"), among the hardest hit. Both of the student-lead teams that produce complex, tangible products currently find themselves with no space to begin assembly.
They were displaced and moved into storage because of the University's continued renovations in order include more freshman labs.
"We didn't have much time to go through and pick and choose what we need," Vice President Rob Gibbons said regarding the club's requirement to move items into storage in wake of their most recent uprooting.  "We have some of the things that we need, but a lot of it is stashed."
The teams were originally displaced in early July 2013, moved due to the demolition of the Frederic O. Hess Engineering Research Laboratory they once called home. Both were fortunate enough to be quickly placed into new housing at 3101 Market St., conveniently located near the University's machine shop. This idealistic setup lasted until May 2014, when the teams were informed they were having their equipment moved into storage and, at the time, left without a space to work in.
After the move into storage, president of Formula SAE Hunter Hall wrote an op-ed in The Triangle (July 25, 2014). He wrote, "When we were moved from Hess, we were promised to be in our new location for 'at least a few years' and that our next location would be permanent. Well, we were in 3101 Market St. for nine months and I don't see the team manufacturing a high-performance race car with a storage trailer as a permanent location anytime soon."
He continued, "As a mechanical engineering pre-junior, I do not understand the University's intentions even remotely. Drexel has succeeded in uprooting dozens of its research laboratories two years in a row, setting back research dramatically, wasting money and frustrating the undergraduate students, graduate students and even many professors. Drexel University prides itself in being a 'research-driven urban university' and yet it is placing many laboratories in storage without any sort of plan on where they will be relocated."
Though a series of generous actions and good fortune granted by faculty and sponsors alike, the clubs were able to carry on their work, albeit at a much reduced pace.
"Technically, the school hasn't given us a space. What we have is what the faculty of the [Mechanical Engineering and Mechanics] department was gracious enough to offer us. We have an office that fits four computers and that's about it," Gibbons said of the current situation of the club.
Lack of dedicated space has not only affected the rate at which the team can work, but the cost of their materials as well. "Our team takes great pride in welding everything ourselves, in the fact that our car is 80-90 percent student designed and constructed. But with the chassis, unfortunately, we couldn't get enough time in the machine shop to do the welding ourselves and had to have another company do it for us, which put a big blow in our budget."
Member recruitment also poses a challenge without a place to call home, as Raj Shah, president of Formula EV was quick to mention. "I can't tell you how many times I've been asked 'so where do you all do your work?' and have been unable to answer."
Despite this, Shah was also pleased to mention things are looking up for the team. Students who have heard about their situation have actively sought them out and helped the team push forward. "We're at a very interesting point in our build cycle right now. We're just starting over — we've got a basically brand new club with a lot of new blood."
Despite these obstacles, Gibbons and the rest of the Formula SAE team seem optimistic for their racing prospects this coming March. "They've always been there to try to and help us though," he said of the school's involvement. Support is also strong between the SAE and EV teams; as Gibbons said, "We work together, try and help each other out when we can. We're different but we have similar goals, and so for that we go through similar situations."
In the coming months, there is much anticipation for a new, more permanent housing option to be offered to the two organizations. But until then, they will be working as hard as ever in the basement of Main — designing, planning and racing forward to the best of their ability.
– Updated 1/9/2015, 1:42 p.m. –
According to the Office of Communications, administrators are meeting with representatives from the team later this month.