Drexel University received a $1-million grant from the W.M. Keck Foundation to expand research on the effect of plasma on the biochemical process in living systems, according to a Drexel-issued press release published Jan. 30.
The two-year research project will be carried out by an interdisciplinary team of Drexel faculty at the University's Anthony J. Drexel Plasma Institute in Camden, N.J. The team includes members from Drexel's College of Medicine; College of Engineering; School of Biomedical Engineering, Science and Health Systems; College of Arts and Sciences; and the A. J. Drexel Plasma Institute.
Plasma, known as the "fourth state of matter" after solid, liquid and gas, is a high-energy, charged mixture of gaseous atoms, ions and electrons. It has a wide range of potential uses in matters involving energy production and control, biomedical treatments and environmental remediation.
The researchers will be interested in learning more about the ways that plasma can affect living systems by influencing biochemical processes outside and inside cells. Direct plasma treatment will open up new ways to treat wounds, burns and diseases that include ulcers and cancer. The grant will be used to gain a better understanding of plasma characteristics and its effects on biochemical processes.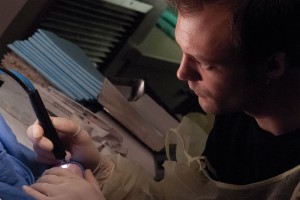 "The W.M. Keck grant will play a critical role in helping us to advance pioneering discoveries in science, engineering and medical research," Drexel President John A. Fry said in the press release. "With the help of this grant, the scientists at our internationally recognized Anthony J. Drexel Institute will further advance the applications of plasma science in medicine. We are very excited about the possibilities."
Drexel was also in the news last month when food safety researchers at the University wrote a study on cold plasma's ability to kill pathogens on uncooked poultry that was published in the January issue of the Journal of Food Protection.
Lead author Brian Dirks, a graduate student in the College of Arts and Sciences, worked with senior author Jennifer Quinlan, an assistant professor in Drexel's College of Nursing and Health Professions, and researchers from the Anthony J. Drexel Plasma Institute.
The study found that plasma either eliminated or nearly eliminated bacteria in low levels from skinless chicken breast and skin contaminated with Salmonella enterica and Campylobacter jejuni bacteria, which causes the second most cases of food poisoning after Salmonella. The study also found that a plasma treatment, which does not require heat and therefore could not alter the food it is used on, significantly reduced the level of bacteria when contamination levels were high.
The researchers also tested plasma use to treat samples of bacteria grown on agar, which showed that antibiotic-resistant strains of bacteria were just as susceptible to plasma as the wild-type strains.
The benefit of using plasma to treat raw poultry products and remove pathogens from it can help reduce the risk of cross-contamination during food preparation at home.
The use of current plasma technology in food production is too expensive in comparison to the narrow cost margins, so the technology is not being created for a wide-scale use. However, if more studies like this one can attest to the benefits of reducing pathogens in poultry and possibly prolonging the shelf-life of raw chicken, developing cost-effective technology might become a more viable option.