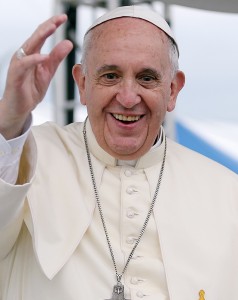 Accounting for the estimated 1.5 to 2 million visitors that Pope Francis' visit is estimated to bring to Philadelphia, Drexel University announced that a modified schedule will be in place from Sept. 24 to 28.
Drexel's University City Campus, as well as affiliated colleges and schools have announced modified class schedules beginning Sept. 24 at 5 p.m., resuming the morning of Sept. 29. Classes missed on Thursday or Friday will be made up online or will be rescheduled to Nov. 24. Classes missed on Sept. 28 may be rescheduled to Dec. 7. The College of Medicine (applicable to medical students only) will be open and operating normally on Sept. 24 and 28. All other schools and colleges operate on a no face-to-face class schedule from Sept. 24 to the morning of Sept. 29. Drexel is not the only university making schedule alterations for the week of Pope Francis' visit. The University of Pennsylvania and Temple University will have no classes on Friday Sept. 25. Temple, however, is expected to keep certain buildings and offices open.
In addition to the University's altered academic schedule, Drexel Campus Dining will be operating on modified hours during the Papal visit. The only locations that will be open between Sept. 25 and Sept. 29 will be the Urban Eatery, Market 16 & Noodle Bar, Northside Market and Subway. University officials advised that students with meal plans should plan accordingly and stock up on food before traffic restrictions go into place on the night of Sept. 24. These traffic zone restrictions will begin at 6 p.m. for Center City and 10 p.m. for areas west of the Schuylkill River. The traffic zone borders are to be extended in University City to run from University Avenue to Powelton Avenue and from the Schuylkill River to 38th Street. Private vehicles may leave this area after the appointed time, but may not return until the end of the long weekend.
The secure vehicle borders in center city are much larger than those west of the Schuylkill River, and encompass the territory spanning from 3rd Street to the Philadelphia Art Museum and from Spruce Street to Fairmount Avenue. Within this border, only authorized vehicles may be parked and all other private vehicles must be moved. The traffic zone in center city extends from Columbus Boulevard to the river and from South Street to Girard Avenue at the widest sections.
Roads and highways being closed entirely include the Ben Franklin Bridge and Route 76, as well as Route 676. Several roads around the event spaces are being kept clear for emergency vehicle passage and quick response, including sections of Market Street that extend into University City.
Pedestrian access on bridges between University and Center City will also be restricted during this time. The Spring Garden Street, JFK Boulevard and Market Street bridges will all be shut down during the weekend, and travelers will have to use the Chestnut Street, Walnut Street or South Street bridges.
SEPTA will be running on a highly reduced schedule during Sept. 25 and Sept. 26. The Market Frankford Line will only be operating at six of the 28 stops, these being the 69th Street, 52nd Street, 30th Street, 2nd Street, Girard Avenue, and Frankford Avenue stops. SEPTA users during Sept. 25 and 26 will need to purchase a special "Three-Day" pass for the use of all services except Regional Rail. Regional Rail users are expected to purchase special "One-Day" passes for explicit locations that must be clearly printed on the pass. Only 18 Regional Rail stations will be open, and the schedules will be run on "weekend hours" for Sept. 24 and Sept. 27. Delays are expected.
The pope's official itinerary has been published. His first event will be on the morning of Sept. 26, when he will give Mass at Cathedral Basilica of SS. Peter and Paul, located on 18th Street and the Benjamin Franklin Parkway. The Mother Church of the Archdiocese of Philadelphia, this Cathedral has an important history as the largest brownstone structure in Philadelphia and the largest Catholic Church in all of Pennsylvania. This event is open to the public and expected to attract millions.
After Mass, Pope Francis will travel to St. Martin's Chapel, St. Charles Borromeo Seminary to meet with the Bishops there. This event is closed to the public. Later Saturday afternoon, the Pope will visit Independence Hall, where he will give a talk on freedom and immigration to any citizens who would like to attend. The University has set up a committee to deal with questions and concerns and organize information regarding the Papal Visit. Headed by Vice Provost Janet Fleetwood and Associate Vice President of the Office of Government and Community Relations Greg Montanaro, the committee will be posting updated information about the visit, and will also be available to answer questions by email. They may be reached at [email protected].