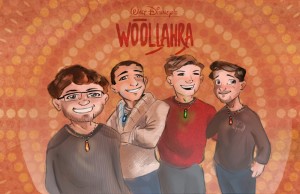 A team of four Drexel University students recently finished third after competing in the finals of the Walt Disney Imagineering's 24th "Imaginations" design competition, held Jan 26-30.
The Triangle reported Jan. 9 that senior mechanical engineering students Justin Petronglo and John Van Zelst, and senior architectural engineering students Bader Al Moulah and Ahmad Jamal, were selected as one of six student teams to compete in the finals. Their project, titled "Woollahra," is a Disney-esque transportation system intended for Sydney. They were flown out to Glenside, California, and spent four days presenting, networking and learning about the company.
"Our week at Imagineering was a crazy whirlwind of nerves and excitement," Petronglo wrote in an email. "We were constantly running from place to place, whether we were presenting our project, seeing the magic behind the scenes, or meeting with passionate peers and Imagineers."
Al Moulah added, "The week was pretty jam-packed and we had to hit the ground running. We would usually start the day with competitive duties and then spent the rest of the day taking exclusive tours and networking."
The team presented their project twice during the finals — once to a group of 50 World Disney Imagineering executives who judged the competition and again to any Imagineers that were interested in seeing what this generation of designers came up with.
"Day three, we had to present again, this time to an open forum of any Imagineers who wished to attend, so there were many [who came] to see our projects and cheer us on," Al Moulah wrote.
Although all contest is only for students, they were treated as professionals in the industry; their entries were evaluated on the same criteria that would be used to judge the projects of actual Imagineers. This included a variety of factors including multidisciplinary collaboration, mastery of individual skills, the "guest experience" provided, an understanding of the culture of the chosen location, level of storytelling, and demonstrated knowledge of and passion for the Disney brand.
"We were extremely nervous," Petronglo wrote about the team's emotions leading up to the big presentation. "We put so much time into this project, and we wanted to do it justice at the final presentation. After presenting, a wave of relief washed over us, and we were able to really enjoy the rest of the week."
The recognition came with a $500 cash prize and consideration for internships with WDI, but perhaps more rewarding part of the competition was experiencing the atmosphere of creativity and mastery behind the Walt Disney Parks and Resorts.
According to Petronglo, "Personally, I grew up going to Disney parks and always dreamed of being a part of creating that magic. So the entire experience was a dream come true for me in the truest sense. It's not clear yet what the future holds, but I think it will be bright thanks to this competition."
"By far, this has been one of the best experiences of my life," Al Moulah wrote. "It was honestly a dream come true and something that I never thought I would get to do."
The Imaginations competition is held annually, and encourages creative thinking in order to inspire the next generation of designers for Walt Disney Parks and Resorts. Full-time juniors, seniors or graduate students enrolled in specified disciplines are eligible to enter.