Nearly 21,000 athletes, including a handful of Drexel University students, participated June 1 and 2 in Tough Mudder, an intense 10-12 mile military-style obstacle course built to test participants' strength, stamina, mental grit and camaraderie, in Lehigh Valley, Pa.
Spread throughout hundreds of acres of land on Jaindl Farms were 22 obstacles designed after British Special Forces exercises. Several Drexel students, including Steffanie Altman and Gregory Monforte, took on the challenge and were able to complete the endurance race successfully within the average time of 3 1/2 hours.
Altman and Monforte were among the 78 percent to survive the "Arctic Enema," a dumpster filled with water and ice reaching temperatures between 34 and 35 degrees Fahrenheit; "Fire Walker," a trail filled with pits of blazing firewood up to 4 feet high; "Electroshock Therapy," a field of live wires carrying up to 10,000 volts of electricity; and the other obstacles included in the course.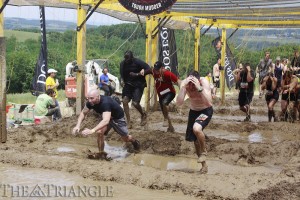 In order to prepare for Tough Mudder, Monforte, a pre-junior sport management major, took it very seriously and started training months in advance.
"I trained for about four months. I would walk every other day, and on the other days I would alternate between upper-body and lower-body lifting. The only thing I regret not doing is not training on hills. There were way more hills than I thought there would be. I thought the course would be flat," Monforte said.
Unlike Monforte, Altman, a senior international area studies major who ran with a group, took a more casual training approach.
"I went to the gym regularly, and I ran short distances for fun, so I felt pretty prepared," Altman said.
She continued, "If you're running with a team, you need to decide as a group if you're going to train. My team and I were all on similar [athletic] levels, so it worked out really well. But if one person hadn't trained at all and another person really overprepared, it would have been frustrating for the outliers."
After crossing the finish line and receiving a Tough Mudder headband, T-shirt and beer, many participants found the experience to be insightful and discovered what physical challenges they were capable of overcoming.
"The biggest takeaway [from the course] would be not that anything is possible, but that if I put my mind to something and really train for it and work hard, that I will have the courage and ability to do anything I want," Monforte said. "When I first signed up, I thought, 'It's 12 miles; this is going to be insane. There's no way I'm going to be able to finish that.'"
Altman said knowing how far her body could go in a difficult obstacle course and knowing her own strengths were what she gained from the event.
"But also, the best part about it and what separates it from running a half marathon or [the Broad Street Run] is just being with a group of people who are all working so hard together. There were a lot of obstacles where you needed that teamwork," Altman said. "Even if you were the last person on your team, a stranger would help you overcome those obstacles. There was just a very communal spirit to the whole thing that I don't think you get in regular running courses."
While many will question why one would put their body through such painful and ludicrous conditions, for some, it's an exciting, out-of-the-box adrenaline rush. For others it has a more sentimental meaning behind it. Many participants are war veterans, while others have had friends or family members who served in the military.
A portion of the funds raised from Tough Mudder, which was co-founded in 2010 by Will Dean and Guy Livingstone, is donated to the Wounded Warrior Project, a nonprofit organization whose mission is to raise awareness and provide aid to injured service members.