With the official opening of Dragon Cakes Feb. 11, student bakers in the Goodwin College of Professional Studies' culinary arts program were busy Feb. 14 filling 30 orders for special Valentine's Day cakes.
Dragon Cakes is a student-run special-occasion cake bakery that bakes, decorates and delivers cakes out of the 6th floor of the Paul Peck Problem Solving and Research Center. So far, Dragon Cakes offers five different sizes of cakes in vanilla, chocolate, or half vanilla and half chocolate flavors with four different kinds of fillings and three types of icing.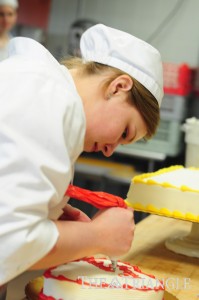 Timothy Flohr, the food and beverage manager in the Hospitality Management, Culinary Arts and Food Science program is the manager of the Dragon Cakes staff.
"People are always going out and getting cakes from other bakeries in the community, so we thought it would be good to do it [at Drexel] and showcase the culinary arts students in our program to be able to provide a service across campus," Flohr said.
The cakes will be sold year-round, with special cakes being offered for holidays. Customers can pay for the cakes with cash, check, credit card, Dragon Dollars or a University department card. Cakes have to be ordered at least three days before they should be delivered. Customers can choose a custom message to be written on their cakes. The online order form, designed by the information technology office in Goodwin College, can be found at goodwin.drexel.edu/dragoncakes.
Flohr said, "We're really excited to get this program started. It's been a lot of months in the works. For the students in our program, it's really great for them to be able to run this almost like their own business. … They're able to utilize their culinary talents, and they learn quite a bit about entrepreneurship as well by going through the whole process of marketing, having orders come in, inventory of supplies and product."
The idea for Dragon Cakes came to fruition in the summer of 2012. Flohr worked several months with student baker Christine Luby to bring the Dragon Cakes idea to life.
Luby, a second-year nutrition and foods major in the College of Nursing and Health Professions, was in a food science class learning about the textures and colors of cakes when she was initially approached by Flohr to decorate cakes for the culinary arts program.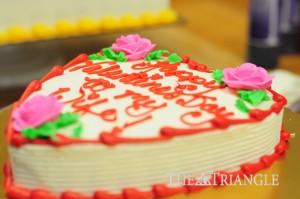 She had brought her decorating equipment into class and impressed professor Rosemary Trout. Trout kept Luby's cake to show another class, and Flohr saw her work.
"It came out of the blue. All of [a] sudden I was just making cakes up here. It's pretty awesome," Luby said.
Luby graduated from Bucks County Community College after completing a three-year culinary apprenticeship program. For her apprenticeship she started out in a grocery store bakery and then got hired by a family bakery, where she ended up decorating cakes.
Luby will be working alongside Marie Whitehead and Alexandra Zeitz, students in the culinary arts program. Faculty will be available to teach the bakers new decorating techniques.
"I think Dragon Cakes will be a good stepping stone into the real world of baking and pastries. I plan to own my own family bakery one day and be the head baker and pastry chef," Whitehead said.
Luby will be working with Dragon Cakes for her spring-summer co-op this year. She and Flohr hope to expand Dragon Cakes to offer more options, including different cake flavors and cupcakes.