Drag Bingo brought Jennifer Lopez, Nicki Minaj and Robyn dancing to the James E. Marks Intercultural Center May 9 at an event hosted by the Foundation of Undergraduates for Sexual Equality and the Office of Multicultural Programs.
The hosts for the night included freshman Ian Crumm as J-Lo, pre-junior Ajay Raghavan as Nicki Minaj, and freshman Kenny Wittwer as Robyn. Clad with wigs, makeup, dresses and three-inch heals, the three drag queens took the stage and entertained the audience with a night of wise-cracks, dancing and bingo.
Wittwer, a sociology major, said that the idea of Drag Bingo came up after trying to think about something fun to do for Pride Month, which is celebrated in May and supports the lesbian, gay, bisexual and transgender community.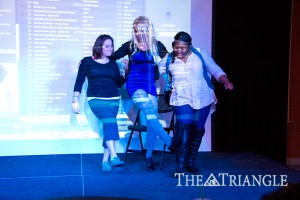 "Because Drexel has finals and commencement and things, we celebrate [Pride Month] in May. We thought, 'Hey, let's do drag bingo, something fun and extravagant, spice things up a bit at Drexel,'" he said.
The evening started as the drags introduced the rules of Bingo, game sheets strewn about on the table with playing chips and enough cards for each player to have four or more games. As the drag queens called the numbers onstage, there was no shortage of jokes to entertain the audience.
Puns like, "O-65. As in, oh, you're 65?" or "B-9. That tumor is b-9," kept everyone light on their feet and laughing throughout.
There were over four rounds of Bingo played, and the drag queens would take the stage between every round to sing one of their popular songs and dance to the beat. Audience members were also encouraged and sometimes playfully forced onstage to dance with the drag queens.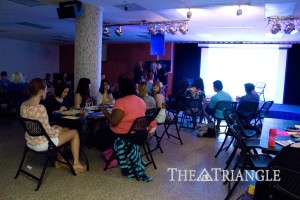 High heels seemed to be the only problem of the night, as each drag queen tripped once or twice onstage, causing the roar of the audience to intensify.
Chelsea Hahn, a freshman communication major, said, "This is good; this is hysterical. It's weird because I'm going to see Ian [J-Lo] tomorrow without a wig or dress."
A dance-off occurred between the winners of the first round of Bingo, with the prize being a Drexel folding chair. That winner also happened to come dressed in drag and went by the name "Esperanza."
Halfway through the night, Bingo was called to a halt as the drag queens took the stage. Robyn took the microphone and announced that a song would be played in tribute to Whitney Houston. Soon, Houston's "I Wanna Dance with Somebody" was blaring through the speakers, and a few audience members also took the stage.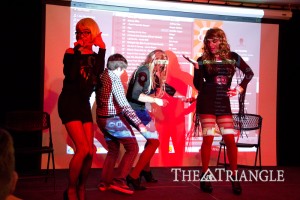 Though Wittwer had never dressed in drag before, he said that hosting an event like this would bring awareness but would also be fun and lighthearted.
Commenting on his character for the night, he said, "Robyn's kind of very shy and not really very loud and outgoing and stuff, [so] I decided to kind of change and make it a sassy Robyn, the drag version, just to make it fun and entertaining."
The evening ended the way it started — with plenty of laughter, jokes and dancing. The drag queens stayed onstage, posing for pictures as the audience left.
"I had a lot of fun," Crumm said after the event ended. "The only problem is it's really hot with all the lights, but I suffered through it and the pain in my feet to please the audience and put on a good show."
Wittwer is an undergraduate advocate for the LGBT community. He said that FUSE takes on a lot of responsibility and really helped to make this event happen.
Wittwer also said that he believed the event would raise awareness and make Drexel's LGBT community visible, something he said the Office of Multicultural Programs has really been working on all year.
The three hosts are currently members of FUSE.
Kerry Hooks, the director of multicultural programs, said that this event is something she would like to see repeat annually. She added that Drag Bingo could also be held more than once per year, perhaps in February for Valentines Day.