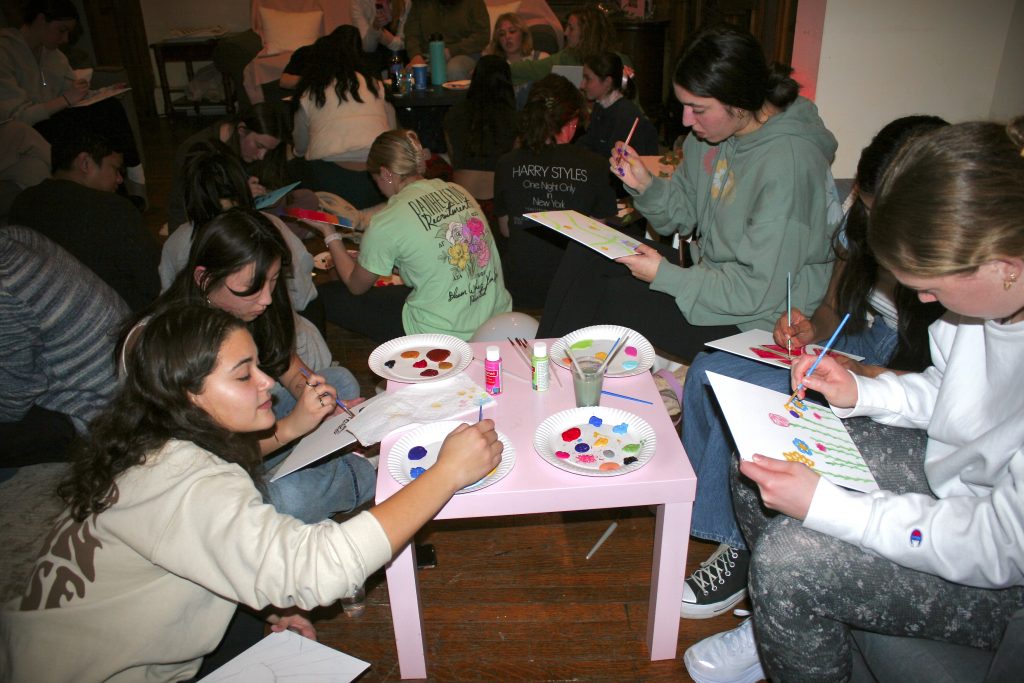 Through the week of Feb. 20, 2023, Drexel University's chapter of Delta Phi Epsilon celebrated ANAD week, an annual event promoting positive body image and mental health awareness hosted in partnership with the National Association for Anorexia Nervosa and Associated Disorders (ANAD).
ANAD is one of several philanthropic partners of the sorority, formally affiliated with the Delta Phi Epsilon International Sorority since 1985 after delegates at a previous year's convention decided to shift DPhiE's focus to charitable efforts they felt better reflected the needs of young adults in the modern world. Drexel DPhiE has hosted their own events to commemorate ANAD Week since the chapter's founding in 2003, crafting a decades-long legacy of supporting mental health and self-esteem.
This year's efforts were coordinated by DPhiE philanthropy chair Becca Newman, a second year global studies major, and a group of interested sisters committed to making ANAD week a success. Newman, inspired to add an artistic twist to the idea of self love, selected the theme "I am my own muse." Newman plans to highlight this theme in all facets of ANAD Week, with events including in-person activities for DPhiE sisters and the public, educational content and fundraising for ANAD. Above all, this week is meant to spread awareness on the importance of being kind to yourself and safeguarding your health.
"We have social media posts from all the sisters and each day of the week is going to be a different thing, like 'No Makeup Monday' or 'Treat Yourself Tuesday,' really to get people into the spirit of self care and mental health," explained Newman.
Other prompts include "Wear Your Letters Wednesday," "Throwback Thursday" and "Empowering Friends Friday." Along with their week-long social media campaign, DPhiE also planned several sisterhood events and a public mental health fair on Lancaster Walk aimed to support positive self esteem and mental well-being.
On Tuesday, sisters participated in a Paint & Sip night to harness their creativity and promote bonding. The fair on Friday includes a Scale Smash event where participants can literally bash their own insecurities in addition to an activity titled 'Don't Judge a Book by its Cover,' where students can pick a brown paper-wrapped book based solely on a simple description rather than its cover art. The fair also features a community mural with self portraits of all attendants to promote positive self image, with all proceeds going directly back to ANAD.
Newman explained that her goals extend beyond this short stretch of events.
"I hope to continue the values of ANAD throughout the year…just to keep in mind mental health and say it's not just a one week event," Newman said. "Mental health always matters."