Drexel alumnus John A. Daskalakis donated $3 million to the Daskalakis Athletic Center already bearing his name to fund renovations scheduled for summer 2012, according to a March 29 Drexel Athletics press release.
"John Daskalakis' commitment for a $3 million gift and his subsequent donations, which have been numerous, make him the most important donor in the history of our program. Equally as important, however, is how John Daskalakis' leadership in this area has motivated so many others to also give and support Drexel athletics," Eric Zillmer, director of athletics, wrote in an email.
Daskalakis' donation helped to mark the beginning of the "I am a Dragon" campaign that is meant to aid Drexel Athletics in renovating, improving and building facilities in order to raise the prominence of its teams. The $3 million contribution has already helped the organization with its goal of generating $15 million in donations.
"When he heard that Drexel Athletics is starting a capital campaign, he immediately asked how he could help," Zillmer said.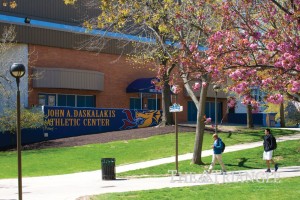 According to Zillmer, the campaign has different phases that will be enacted during a span of several years.
"Phase 1 includes a renovation of the men's and women's basketball and wrestling locker rooms, an interactive athletic hall of fame and a renovation of the DAC itself, including improvements in seating," he said.
Zillmer said that the renovations are already starting.
"RFPs  [requests for proposals] for some of the projects have been awarded, and an overall architect to assist with the renovations has been secured," he said.
Daskalakis, a 1963 engineering alumnus and former star lacrosse player, donated $1.5 million in 2000 for the creation of the new gym facility that now bears his name. His previous gift was the largest donation in Drexel Athletics history, but his new gift now holds that title.
"I am very grateful about the opportunity I had on the field and in the classroom during my days at Drexel," Daskalakis was quoted as saying in the press release. "I'm happy to be able to help out Drexel in any way that I can."
Daskalakis is very involved with Drexel and its athletic program and often works with Zillmer for new developments.
"I just spent last weekend with him at the Final Four in New Orleans, where we talked Drexel basketball and also met with coach Bruiser Flint," Zillmer said.
The DAC previously underwent renovations to create the Kline & Specter Squash Center that officially opened in January 2012. The facility is located in the lower level of the DAC and features five competitive courts and two recreational courts. Seating areas for spectators and a team room for the men's and women's squash teams were also built.
Daskalakis excelled at sports while at Drexel, making the varsity squash team as a freshman and playing football for the school. He was also a member of Pi Kappa Phi, Army ROTC and the American Society of Materials Engineers. He received the 2001 College of Engineering Alumni Circle of Distinction Award and was added to the Drexel 100, the University's alumni hall of fame, two years later.