Designers from Urban Outfitters visited Drexel May 18, serving as panelists in a discussion that encompassed various design departments ranging from store design to graphic design.
The event, hosted by Drexel Art Organization, was open to students and took place in the Stein Auditorium in Nesbitt Hall. Approximately 75 attendees learned how designers with the popular clothing store pick locations, develop architectural plans and create all aspects of the brand.
Art and Inspiration Manager Keith Wilkins discussed how he and his team create and maintain store locations. Wilkins explained the logistical process of designing new store locations, which includes surveying sites and developing a design plan.
Wilkins commented on the turn around for this process, saying that it was cramped, taking place over eight to 10 weeks.
"We're designing a full space from front to back and delivering it to the architects," Wilkins said. "They turn our drawings into construction documents and then it goes through from there and actually gets built."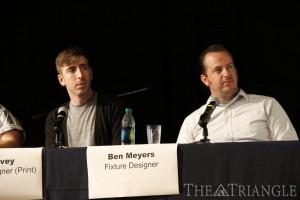 Wilkins presented several slides displaying various stages of the construction process for store locations, explaining that his design revolves around salvaging architectural elements as opposed to destroying them.
"We end up exposing lots of really cool elements that define Urban Outfitters," he said.
Some of these natural elements include skylights, metal beams and framing, Wilkins noted.
"We go through a whole process with brand operation and the development teams to figure out the best way to utilize the space — the best place for the fitting rooms, staircases, walls and the sales room," he said.
These various development teams package renderings, drawings and storefront options, which are then sent to the brand president and chief executive officer of Urban Outfitters for review before returning to Wilkins. He displayed before and after photos of storefronts around the United States and international locations as well.
According to Wilkins, not every design plan is executed.
"We design the hell out of these stores and we don't sign leases and the landlords back out, so we come up with these great designs and they die," Wilkins said.
This occurs at a rate of approximately five stores per year, Wilkins noted. Because each design is customized to the location, few can be recycled at other sites.
Regardless, Urban Outfitters is producing locations at a rate of roughly 15 American stores and 10 European stores per year. Wilkins also mentioned the possibility of developing stores in Asia in the next couple of years.
A major part of the store development process is searching for what Wilkins called "architectural salvage," which includes reclaiming materials and furniture in ways that look authentic, while promoting "eco-friendly" design.
Fixture designer Ben Meyers said reclaiming materials was a large part of his job as well. According to Meyers, fixtures include all of the store pieces that contain and display clothing.
"If you think of a store going out of business, once everything's gone, what's left is retail fixtures," Meyers said.
The job of a retail fixture designer entails working with vendors, developing new concepts and providing functional and compelling design, Meyers said.
"We make everything out of plywood because it's very interactive and also very easy to make a component that goes with it. As we update we like to stray away from that," he said.
Meyers works with vendors Rich Brilliant Willing, Michael Marriott and UglyCute to update fixture design at Urban Outfitters. Another vendor, 5.5 designers, works with the company developing fixtures as well.
"They're compelling because they like to explore the poetry of the mundane. They're very excited to work with us," Meyers said.
Meyers noted that it is a constant process to update the fixtures at existing Urban Outfitters locations in order to maintain a sense of modernity among the various sites.
"It's never done – it's always happening. There are different fixed accents at every store; it's never the same experience," He said.
The duo of Matt Owen and Joel Evey, respectively web and print graphic designers for the brand, presented a collection of eclectic images from which they said they drew inspiration for their designs.
Owen prefaced the slideshow by saying, "We're going to show you guys stuff from our headspace – stuff that inspires us."
"Tradition is not really a motto of Urban Outfitters," Owen said. "At school, we were both taught very structured design, a lot of basics and one of the good things about Urban is that we get the chance to break from those ideas."
Later in the presentation, Owen discussed the increasing collaboration between print design and web design.
"The web is reflecting the print and vice versa. It's kind of a big modular system. We try and come up with things that the customer can relate to," he said.
Evey said that part of their job was to capitalize on the irony of the brand.
"Urban has been known as an ironic brand, so there's a certain level of irony in the work we do, poking fun at the different design trends," Evey said.
The two said as they continue working at the company, they draw on outside content to reinterpret the brand. Working with fashion historians and the merchandising department, the two operate with the goal of "getting everything to work within the vernacular of the company," Owen said.
After the discussion panel, DART leaders gave students the opportunity to ask questions of the designers, followed by a cocktail reception in which students and panelists talked about design.
Freshman graphic design major Jasmine Corrie said attending the event was an eye opening experience for her.
"Now I realize that there's a lot of people in the team that work on developing design, and I didn't really know the extent of that [before the panel]," she said.
Outgoing DART president Kelly Himes spoke about what she hoped students learned from the panel.
"I hope that people start to connect design to concept. I think some people think design is just doing, but there's also a thought process behind it. The reasons why they do it and how it affects consumers are part of the cycle of design," Himes said.
Incoming DART president Lauren Beltramo extended this idea.
"We really want to think about the whole design process and how that can help us transition into the workplace. Urban Outfitters and Westphal seem to have similar mindsets about this," Beltramo said.
Each year DART hosts a designer or panel to emphasize and discuss the practices of design. Last year the organization hosted Althea Harper, runner up on season six of Project Runway. Himes said the Urban design panel was chosen this year because the speakers addressed multiple areas of design.