In the wake of the 10th anniversary of 9/11 and amid violence in Philadelphia, a group of Drexel students participated in the first ever Cupcake Fight for Peace Sept. 21 on the Race Street lawn.
"We wanted to send the message, 'Fight with cupcakes, not bullets,'" Ari Melman, founder of the student organization Urban Playground, said.
Organized by Urban Playground, "The friendly flash mob group" created this event to celebrate the U.N.'s International Day of Peace.  Melman ran the event with his fellow organization members, aiming to promote peace among violence.
"The whole event only lasted about a minute and a half, but people were really into it for that moment," Melman said.
Fellow Urban Playground members Connie Lin and Dave Myers helped Melman pull off the event, which drew over 100 Drexel students.
Melman explained in his own words the purpose of his event, saying, "With the violent flash mobs in recent news, I feel like Philadelphia has been portrayed as this purely violent place. We wanted to shift that message and spread good will."
Cupcakes4Less.com, an online cupcake service, provided the organization with a decorated supply of cupcakes to be used in the war as well as ones just to be eaten.  For the fight, Cupcakes4Less only donated damaged cupcakes that couldn't be sold commercially.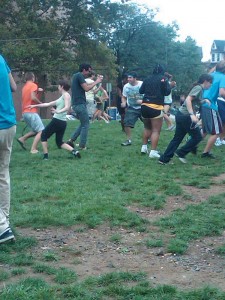 "We go out of our way to network with people in the community that are looking for interesting promotional opportunities," Melman said of the partnership with the cupcake company.
It began to rain before the event, but students remained for the fight, which left them covered in frosting. After the war, the remaining cupcakes were then distributed among to the participants, and a portion were reserved for children's shelter Youth Services Inc.
"The cupcakes for the students disappeared much quicker than expected," Melman said. "When they found out we were donating some of them to Youth Services, their mindset was, 'They need them more than I do.' That was really gratifying."
Veterans from the war in Afghanistan also attended the event and spoke about the struggles of promoting peace and nonviolence both locally and internationally.
According to Melman, the feedback from students was overwhelmingly positive.
"I think a lot of the kids were just excited about the idea of a cupcake fight. When's the last time you did something new that really excited you?" Melman said.