The Goodwin College of Professional Studies Hospitality Management and Culinary Arts Program offered its students the opportunity to create a five-course meal for a collaborative dinner May 14 with one of Philadelphia's top French restaurants, Le Bec Fin.
Two Drexel students were paired up with a chef to create a specific course for the meal. The students were able to incorporate their own ideas into the dishes while being guided by established and experienced chefs.
At the event, the students explained each course before it was served, pointing out the freshness and uniqueness of the dishes they prepared along with from where the organic ingredients came.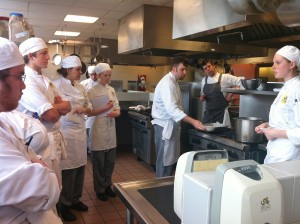 Each dish was uniquely presented to reveal its freshness; this included assembling the first course, halibut chowder, at diners' tables.
"It's deconstructed chowder; you'll get to see all the ingredients before the soup is poured. We wanted to showcase the freshness of the ingredients. We got to work with shellfish and scallops that were straight from the shell. Halibut is in season right now and has a very short season up in Maine, so we wanted to showcase this because of its freshness," Erin McGuire, a sophomore culinary arts major, said.
After the chowder, diners were served Hudson Valley foie gras almond profiterole followed by broiled amberjack. The main course was a trio of Quarry Hill farm lamb.
The meal concluded with a cheese tart and a rhubarb desert with ice cream.
Prior to the dinner, 10 culinary art students, along with Le Bec Fin Chef de Cuisine Steven Eckerd and Drexel Culinary Arts Program Director Jonathan Deutsch, went to the Headhouse Farmers Market to select the ingredients for the dinner.
"Working with the chef and the entire team to shop for ingredients at Headhouse Farmers Market, visit Quarry Hill farm, suggest wine pairings, and develop and execute the menu is an amazing opportunity for our students and one we're so proud to be able to provide," Deutsch said.
Working with Le Bec Fin allows for the next generation of chefs to get real-world experience as a supplement to their classroom instruction. The students were not only given the chance to create and prepare a meal at a fine-dining restaurant, but they were also able to collaborate with seasoned chefs who have sculpted the Philadelphia food scene.
"We used to do a lot together — Le Bec Fin and Drexel — but that sort of fizzled out over the past few years. … Let's try to reinvigorate this connection," Deutsch said when introducing the inspiration for the dinner.
The event was open to the public. Tickets were priced at $110 per person or $85 for students, with an optional wine pairing for an additional $55. A portion of the proceeds from the collaborative dinner will benefit the Hospitality Management and Culinary Arts Program.