The Asian American Voter Registration Drive kick-off event was held April 26 at City Hall and was initiated by Philadelphia Councilman David Oh, the first Asian councilman of Philadelphia.
Over 80 volunteers from 12 schools and organizations, including 28 Drexel students, participated in the project designed to encourage and help Asian-American citizens to register or reregister to vote. Most Drexel participants were members of Chinese Students and Scholars Association of Drexel; the rest were non-American citizens coming from Hong Kong, Korea, Thailand and Vietnam.
Wei Wang, a second-year graduate student in the LeBow business school and an intern in Oh's office, said all the volunteers have been treated twice during March and April. According to Wang, the volunteers had passion as well as the basic knowledge needed to convince the Asian-American neighborhood to express their ideas by registering or reregistering. They set up tables or knock on doors and then ask Asian Americans to vote. Some potential voters may not understand English, so the volunteers then have to translate and explain voter registration to them.
This project was initiated in February. Thomas Kang, special assistant to Oh, contacted CSSAD and asked if they could provide five volunteers to help them, and eventually, without any planning, the volunteer force grew to include 80 people willing to help.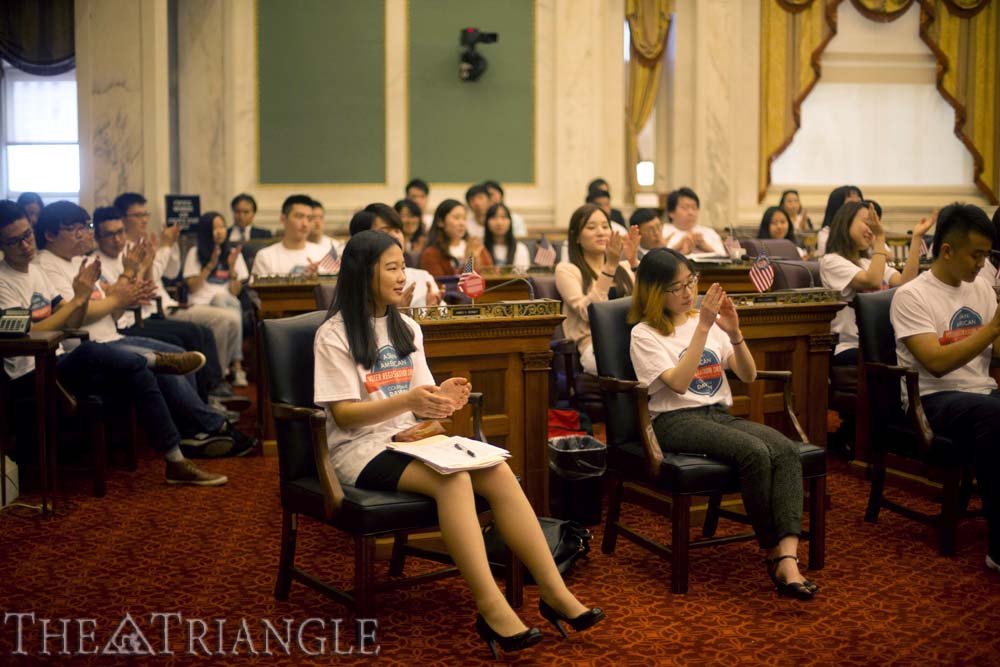 There are 106,000 Asian Americans in the city; however, only 6,700 of them are participating in voting. According to Oh, most Asian Americans do not care and do not want to engage in voting. Therefore, the main purpose is to convince them to check the No. 7 box, which appeals to race, and put "Asian" when they register. Oh said it is so important to have them identify as "Asian" in the voter registration box because without that, the government cannot know where they are and what their needs are.
"If we have 45,000 Asian-American voters in the city we can identify," he said, "then it tells people that this community wants to contribute, has something to say, is important and should be at the table as we collectively look at how people improve in our city."
Oh also told volunteers not to be shy and rather than standing around letting people go by, advised they go after and convince Asian voters to register or reregister.
"It is not only walking on the street," Wang said. "You have to get people's attention and spread yourself; the most important thing is you have confidence to be successful."
Renxiang Cai, a pre-junior majoring in business and also the president of CSSAD, said that, being an Asian Drexel student, he was proud of being part of this event. Compared to the school events that always had him communicating with people he knew, he had to force himself to go into the Asian community and convince strangers to vote. Also, Cai said that it had improved his ability to cooperate with other volunteers.
"So many people rejected our greeting and did not believe us," Zheng Gao, a freshman majoring in management information systems, said. "The process was tough, but I am glad we didn't give up and finally got success."
Even though it is not easy to have so many Asian Americans participating, Oh believed this event was successful so far because it was the biggest voter registration drive held by Asian Americans in the history of Philadelphia.