President John A. Fry announced Sept. 9 a new college to be opened in fall 2014. The College of Computing and Informatics will be a combination of several different departments at Drexel University in order to provide a focus on computing.
CCI will combine the computer science and cybersecurity and technology departments with the existing College of Information Science and Technology, also known as the iSchool.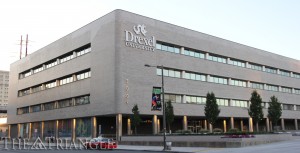 "Basically what we're doing is taking two departments, CST from [the Goodwin College of Professional Studies] and CS from [the College of] Engineering, and we're adding to what was the old iSchool," Provost Mark Greenberg said.
As of right now, students who are currently enrolled in programs that comprise the new college will not have a change in their plan of study. However, the computing students in the freshman class of 2014 will have a new common computing year in order to help them learn about all the various computing options offered at Drexel.
Brenda Sheridan, the marketing director of CCI, explained that the college's undergraduate degree offerings will include computer science, informatics, information systems, information technology, software engineering, and computing and security technology. The college's graduate programs will include library and information science, computer science, health informatics, information systems and software engineering.
She added, "The college also offers two doctoral programs (in computer science and information studies) as well as multiple professional development programs and certificates."
Registration for classes will not be affected until fall 2014.
"There were a couple of things that came together that made us want to investigate the possibility of doing this, and the first was that, for many years, I have been aware of many students that were looking to study some form of computing at Drexel that had many options spread across four or five different colleges," Greenberg said. "For a young person who may not be aware of the difference between software engineering, computer engineering, computer science and cyber security, it would be hard for them to make a decision."
"Faculty were coming to me and academic leaders were coming to me, saying that we really need to rethink on how we want to instruct on computing at Drexel," Greenberg continued.
Greenberg approached Senior Vice Provost Debbie Crawford, who was in charge of computing at the National Science Foundation before coming to Drexel, to research different options to eliminate the problem. A task force was put together, which was made up of campus experts in computing, at the request of the Program Alignment and Review Committee.
This task force had over 30 members including faculty, students and other administrators. Their conclusion was to go forward with the idea of creating a new college for computing. The task force also recommended that this new college be strongly associated with the other parts of the college that already had subjects related to computing. "It would be a central flower with deep ties with the other parts of Drexel that also had to do with computing," Greenberg said.
Provost Greenberg met with all of the departments associated with the new college, and they all strongly supported the ideas of the task force. Fry gave full approval for the development of the new college.
For now, the different departments will remain at their current locations. Greenberg and David Fenske, dean of the former iSchool and now founding dean of the CCI, predict that with the development of Drexel's Innovation Neighborhood project, they will build a central location for all the departments to come together.
"I'm sitting in the exact same office, I'll tell you that," Fenske said. "I have exactly the same staff outside of my office. The scope has changed quite a bit, but honestly, the iSchool has been rolled into a new college. It doesn't exist anymore than the computer science department exists. We are a new college. We are starting anew."
According to the email sent by Fry, approximately 80 faculty members will join the CCI staff. "Slightly more than half of the student body will be undergraduates," Fry wrote, "with the number of undergraduates projected to grow by 15 percent annually to help meet the persistent gap between the number of computing degree graduates and the needs of a diverse range of employers."
The number of students currently enrolled in the new college stands at 2,200, including undergraduates and graduates from the iSchool, CS and CST, according to Greenberg.
"I feel like it is more of an organizational and aesthetic decision on their end, but I haven't really read much about it, and I am just hoping it doesn't screw me over in any way," Benny Feldman, a sophomore computer science major, said.
Drexel also held a small forum for students to share their concerns in the summer. "No student will be moved from their colleges until 2014, and that allows us to have some student forums during the year, I think the first of which will be scheduled in October," Fenske said.
Faculty at the CCI will also be involved in research in areas such as library science, software engineering, computer science, human-centered computing, cybersecurity and learning science. It will also allow for some professional development opportunities for students in archival studies, competitive intelligence and knowledge management, digital libraries, youth services, cyber law and policy, cybersecurity, and homeland security management.
"Probably the biggest change will be the fact that we are no longer 'engineers,'" Feldman continued. "So I won't be able to pretend I am one anymore."