The University City District is holding a contest to name the recently completed public space on Market Street between the old post office building and 30th Street Station. The contest is part of an effort to join together the members of the nearby residing community.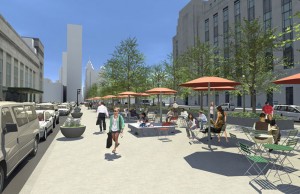 The outer parking lane along Market Street was remodeled as a 40-foot-wide sidewalk as part of a broader Pennsylvania Department of Transportation project, and the transformation was completed by Labor Day weekend. The University City District enhanced the development with movable tables and chairs, seasonal colored umbrellas, and plants. Future developments will include food vendors and landscaping, in addition to small concerts and holiday celebrations, in an effort to bring visitors to the space.
"The area immediately surrounding 30th Street Station, while an important gateway to University City and the entire Philadelphia region, has long been among the least hospitable pedestrian landscapes in University City. The site is adjacent to the second busiest train station in the country, between two magnificent historic buildings, and within 1200 feet of over 16,000 jobs," a press release on the University City District's website read.
The winner of the contest will win a $500 Amtrak gift card, as well as bragging rights. All name ideas must be submitted via email to [email protected] by midnight EST Sept. 30. Entries must contain the contest entrant's name, contact information, and reason for the suggested name in 150 words or less.
A 10-person jury will select the winning entry, which will be announced on or around Oct.19. There is no limit to the number of proposed names each individual may submit, but each name must be submitted separately.
"Future capital investments will be crowdsourced, but we are starting by crowdsourcing a name," the University City District's website read.
The renovation of the public space on Market Street was made possible with help from the University City District's group of stakeholders, which include Councilwoman Jannie L. Blackwell, the Planning Commission, the Streets Department, Amtrak, Brandywine Realty Trust, the Schuylkill River Development Corporation, University City institutions and many others.