Comedian and actor Bill Cosby performed at Drexel University Oct. 5 in a fundraiser for Drexel's 11th Street Family Health Services Center. He used the performance to promote the health center and give the audience a new perspective of growing up in poverty.
The health center is located in the Richard Allen Homes in North Philadelphia, which is where Cosby lived for a large portion of his youth. The facility, established in 1996, serves to provide impoverished people living in the 11th Street Corridor with nurse-managed health services such as dental care, physical therapy, social therapy, and fitness and health.
There are many sides to Bill Cosby. There's the comedian that filled every home in America with laughter, there's the boy who grew up in poverty, and finally there's the philanthropist who supports people in need.
Even though he addressed somber subjects, the somber moments were few and far between.
His performance took a serious turn when he brought up the death of his brother, James.
"My little brother James was given treatment. It was all magical because as a child I had no thought about paying anything to anybody or what something cost," Cosby said. "But I know that my brother James spent time in hospitals."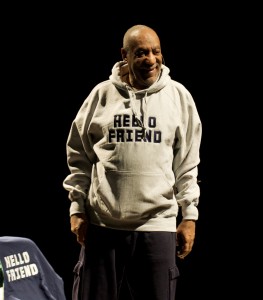 Cosby said that philanthropic organizations helped pay for James' funeral and other medical expenses that Cosby and his family came across, emphasizing the importance of facilities like the 11th Street Family Health Services Center.
"Tonight it is my pleasure for all of you, whether you're paid or not, do your job and keep people accountable. Especially those who receive. Keep them accountable and do all you can for them, because they will become strong," Cosby concluded. "And I want to thank the people who wrote the checks because you too are winners, every last one of you," Cosby said. He added, "The people you may never meet … will do something good for someone else, because that's the way we ought to be."
Cosby began the evening by promoting Drexel's basketball team, joking that the coach should find players in the housing developments.
Following this lighthearted joke, the 75-year-old comedian transitioned into his life in North Philadelphia.
"We came upon this place. I was about 5. I didn't even know the name of it, but I ran into this apartment, and it had hot water coming out of the faucet," Cosby said. "I went under the sink to see where the fire was."
Cosby described the floor of the apartment, which was made of iron and cement. He made note of his family's first linoleum rug, which he referenced several times throughout the performance. Cosby teased that his mother, whom he referred to as "inventive," would cut portions of the rug and use them as plates. He assured the laughing crowd that she washed them.
Additionally, Cosby remarked on the fact that not many families in his neighborhood could afford phones. He joked that there was usually one person with a phone. If anybody in the neighborhood needed to be reached, they gave out their neighbor's phone number.
"This [neighbor's] child would run from wherever they lived … and get you to come answer the phone. You couldn't call out, there was no calling out," Cosby said. "The person … had the nerve to say, 'Who is it?' and the child ran all the way back."
During the performance, Cosby emphasized the parents' duties to not hang the burden of their money problems over their children's heads but to bear the problem themselves.
"See, I wasn't poor. [My parents] were poor," Cosby said. "Our children, when they were 7, 8 years old, came to the dinner table and one said 'Mommy, are we rich?' And I said, without permission, 'No! You are poor. Your mother and I are rich.'"
Cosby then talked about his siblings but focused on his youngest sibling, Bob. Cosby said that even though his parents had no money, they kept having children. Cosby joked that because of this, his food portions were downsized.
"Your parents stop parenting when the baby is born. They give the baby to you," Cosby said. "Then they put restraints on him. They say things like 'Don't hit him.' All the things that seem to work for them."
"[Bob] wouldn't take my mother's food. That's why I knew he wasn't one of us."
Cosby recalled his long list of battles with his youngest brother, who would constantly get him in trouble. According to Cosby, all his brother had to do was show up.
"By the time they get to the last child, parents are not interested in justice. They want quiet," Cosby said.
Cosby also spoke of "moving into manhood." He said that in his time, a boy was considered a man once he was given a pair of long pants. The crowd erupted with laughter as he compared his entrance to manhood with other cultures' rites of passage.
"I heard [that in Africa], they send you to get a lion, and they give you a stick. Obviously these people don't want you to come back," Cosby said.
Cosby has always been thought of as a family man thanks to his long-running television series "The Cosby Show," but few probably think of a girl-crazy, 16-year-old Cosby. Money or no money, Cosby left his teenage years with plenty of stories about girls. To say that Cosby was suave is the complete opposite of reality.
"When you're 16, you got two things going for you: hope and stupidity," Cosby said.
The audience cringed and laughed at the story of Cosby's embarrassing date with, according to Cosby, one of the most attractive girls in the neighborhood. He recalled taking three baths prior to the date, one of which was a bathtub filled with water and an entire bottle of his father's cologne. Years later, the girl ended up marrying one of Cosby's closest friends.
Before leaving the stage, Cosby lifted his sweatshirt that read "Hello Friend" to reveal a Temple University football shirt.
The performance was preceded by an invitation-only underwriters' cocktail party and an invitation-only meet-and-greet with Cosby. All proceeds from the event went to the 11th Street Family Health Services Expansion Fund. The Sheller Family Foundation provided the health center with the lead gift of $1.1 million.