Drexel President John A. Fry announced Jan. 30 that the University will establish the Charles D. Close School of Entrepreneurship thanks to $12.5 million in donations and support from the Charles and Barbara Close Foundation.
The Close School of Entrepreneurship will be one of a small number of freestanding entrepreneurship schools in the nation and the only one in Philadelphia. The school will start to establish its presence on campus in fall 2013.
"This is a real moment for Drexel. We've always prided ourselves on being a very entrepreneurial university, but as we really explored that proposition during our strategic plan, I think we realized that there were quite a couple of gaps that we had," Fry said at a Jan. 30 press conference.
The Close School came to fruition to bridge those gaps. Fry and Donna DeCarolis, the founding dean of the Close School and current associate dean in the LeBow College of Business, sat with the board of the Charles and Barbara Close Foundation to find a way to transform the Baiada Center of Entrepreneurship from a business center within a school into a college within a university.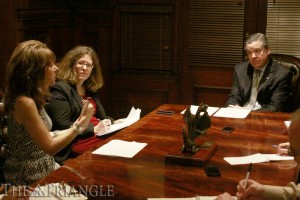 "This will be a very different type of school. This isn't going to be a school that's going to have 50 of its own faculty. It's going to be profoundly interdisciplinary in terms of the way we work because we really do want to leverage the expertise both in entrepreneurship and in content from all the 13 colleges and schools," Fry said. "Don't think about this as a vertical school like all the other schools. Think about this as a horizontal mandate to reach across the entire University."
The Close School will begin operations in the fall with programs including the Entrepreneurship Living-Learning Community, entrepreneurship co-ops and the University's existing "Launch It" course.
Like the Business Learning Community and Engineering Learning Community, the Entrepreneurship Living-Learning Community will give freshmen with a passion for innovation from different majors the opportunity to live together for the fall, winter and spring terms of their freshman year.
The entrepreneurship co-op program will allow students with their own businesses to earn co-op credit for their work. Students will earn a salary for this co-op through funding by the Close Foundation. Students will have to be on their second or third co-op to take part in the program and will have to show that it is an ongoing project.
Students selected for the "Launch It" course will be helped with seed money to do market research and create prototypes to launch and strengthen their business ventures.
Students can officially enroll in the Close School in fall 2014. The goal is to have students obtain joint degrees such as a Bachelor of Arts in engineering and entrepreneurship or a Bachelor of Arts in design and entrepreneurship.
There are no projections as to how many students will be enrolled in the program. Based on demand and feedback from students and faculty, the Close School's enrollment will be tailored. The goal is to make it as accessible as possible, Fry said.
"This generation of students is very nontraditional. They're so exposed starting new ventures and pursuing innovation, and we want to capitalize on that and give them the tools that they need so that they can pursue these big ideas," DeCarolis said.
DeCarolis did the primary research that was presented to the Close Foundation for the new Close School.
Fry said, "It took less than a second for the provost and I to think about who should the first dean be, and that's Donna. We're very, very happy that she's going to be the founding dean of the Charles Close School of Entrepreneurship."
The Close School will temporarily live in the new LeBow building. Fry has plans to develop the area around 30th Street Station into an "innovation neighborhood" that will serve as the school's permanent home.
"We're always lamenting how these kids graduate and then they move to wherever and then they start up their businesses and things like that. We don't want lying down anymore. We want to basically make this such a rich community for entrepreneurs that why would you ever want to leave if you have all this infrastructure here that you can plug into?" Fry said.
The school will have some of its own faculty, and DeCarolis and Fry are looking for interdisciplinary faculty as well as real-life entrepreneurs who will come on as full-time professors.
"We know that we need to educate students that are thinking entrepreneurially about their lives, about their careers. So at the very broad level, this school defines entrepreneurship as a habit of mind, a way of thinking innovatively, a way of doing things innovatively that will take our students through their personal lives and careers," DeCarolis said.