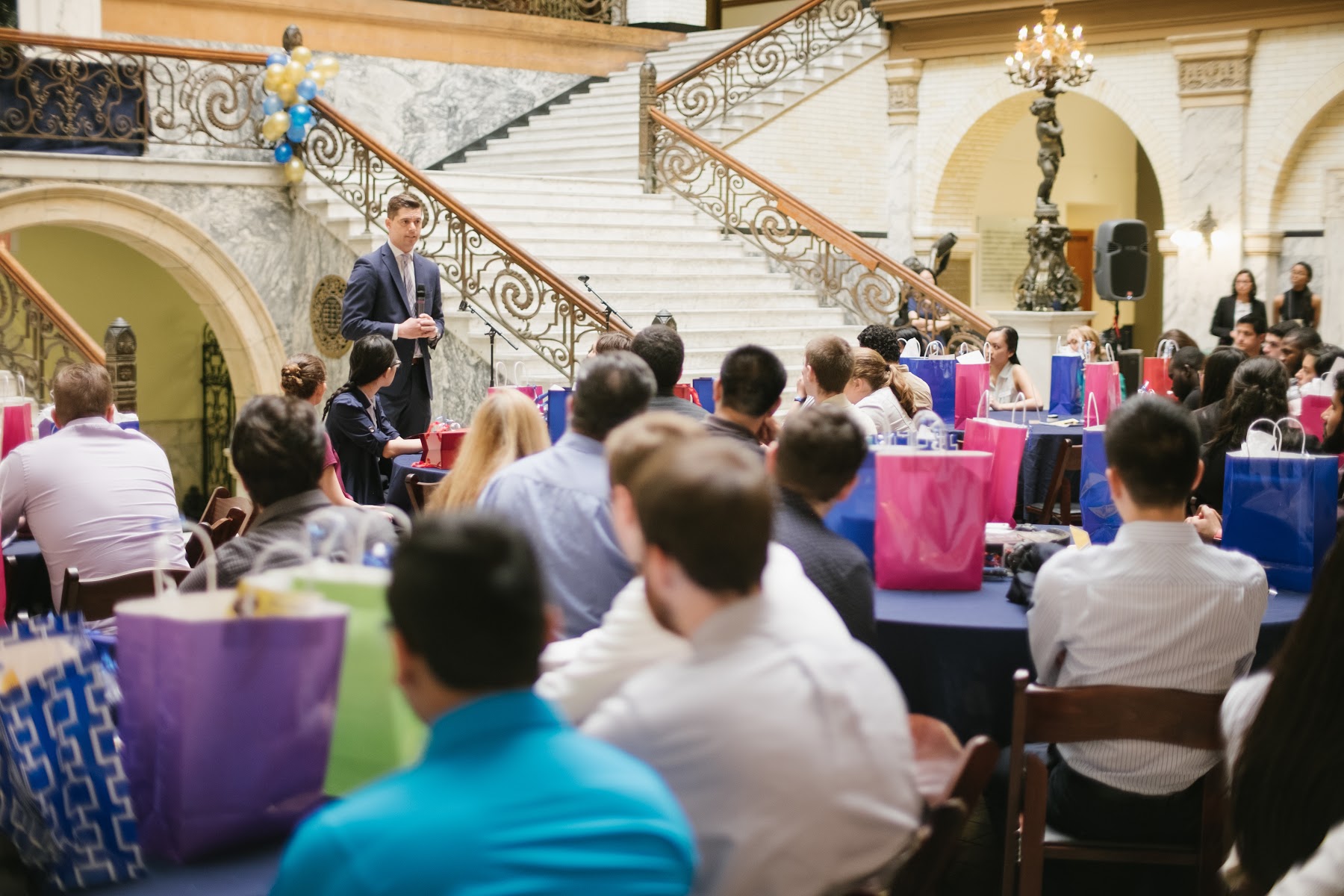 Eleven student organizations worked together to host an Engineering Luncheon May 20 where students from across the College of Engineering were invited to eat with alumni and professionals in the Great Court of the Main Building.
Brought together over Indian food, attendees exchanged business cards and studied the items each organization contributed as a centerpiece.
Associate Professor Antonios Kontsos spoke about the meaning of being an engineer. Using his own experience of attending a university in Greece, Rice University in Texas and eventually ending up in Drexel University's Department of Mechanical Engineering and Mechanics, he suggested that engineers should be proud of having gone through such a selective process.
However, Kontsos cautioned that engineers should always remember their professional responsibilities. A flaw of many people in the profession, he said, is a poor ability to communicate. And besides typical concerns of cost, performance and safety, Kontsos argued that engineers must pay attention to beauty.
Finally, he warned that while engineers will be well-paid for their knowledge, they could end up paying infinitely more because of what they do not know.
The professor had prefaced these remarks with his view that they apply to all engineers regardless of subdiscipline, and that the common identity as engineers links students as well as faculty and people in industry.
This was reflected in the diversity of student organizations which made the day possible. Calling themselves the Engineering Coalition, they are the American Society of Civil Engineers, American Society of Mechanical Engineers, Architectural Engineering Institute, Drexel Smart House, Engineers Without Borders, Institute of Electrical and Electronics Engineers, Society of Asian Scientists and Engineers, Society of Hispanic Professional Engineers, Society of Women Engineers, and Theta Tau.
"This idea actually started between the Society of Women Engineers and Theta Tau," Hanamshet said.
"We learned a lot from each other," SWE Professional Development Chair Jui Hanamshet said. "When 11 different people from different backgrounds are talking together, it's a different work culture altogether."
The Coalition spent over six months organizing the event, according to Hanamshet. It acquired sponsorship from the College of Engineering, the Department of Materials Science and Engineering, the College of Computing & Informatics, and the Office of Alumni Relations. Ultimately this meant that the coalition members spent none of their own funds.
After this initial success the Coalition hopes to organize a professional development event every year. Hanamshet speculated that possibilities include an engineering gala or a day of engineering.