The College of Engineering's computer science department lost an important member of its community when Werner Krandick died March 26 after unexpectedly collapsing during a bike ride.
"Unfortunately, the exact cause is unknown. He was biking, and for unknown reasons, his heart stopped and he never regained consciousness," Jeremy Johnson, professor and the computer science department head, wrote in an email.
Krandick joined the University as an assistant professor of mathematics and computer science in 2001 and was promoted to associate professor five years later.
However, Johnson's friendship with Krandick dates back to the late 80s, when they went to graduate school together at Ohio State University and also worked on their doctorates with the same adviser, George Collins. Krandick received his doctorate in computer science in 1992, and his dissertation was titled "Symbolic Methods for Polynomial Complex Root Calculation."
"We have been friends since then and have often collaborated together on research," Johnson said, adding that they co-authored several papers and even co-advised a doctoral student.
Krandick had been working on a book on polynomial root with Collins and had recently co-authored a paper titled "On the Computing Time of the Continued Fractions Method," which will appear in the Journal of Symbolic Computation.
"Along the way, they recently made a breakthrough discovery, providing a lower bound on an algorithm related to continued fractions," Johnson said. "I will be working with George to ensure that their efforts are completed."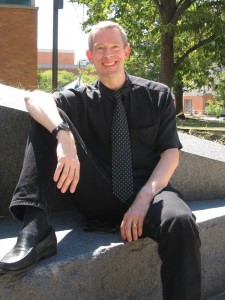 For spring term, Krandick had been scheduled to teach an undergraduate and a graduate course in cryptography, though the department decided to combine the courses and have faculty members co-teach it, with Johnson coordinating and overseeing the course.
"He was very precise and rigorous in his reasoning as well as very broad in his background and interests, making both technical and nontechnical discussions interesting and enjoyable," Johnson said.
According to a memorial statement on the Department of Computer Science's website, Krandick served as senior design coordinator and regularly advised teams that did very well in the computer science senior design competition. Krandick also worked with one team that, in collaboration with faculty from the mechanical engineering department, won first place at the College of Engineering competition for creating a system for remote-controlled aircraft crack monitoring.
Krandick was equally successful and talented outside the classroom.
"He knows five languages and a deep interest in classical music and was an avid biker, runner and swimmer who participated in triathlons," Johnson said.
According to Johnson, Krandick's good health and status as an organ donor will help the lives of others.
"His wife Petra, his mother and his siblings were at his side. We are all saddened by this terrible news and will miss Werner very much," Johnson said.