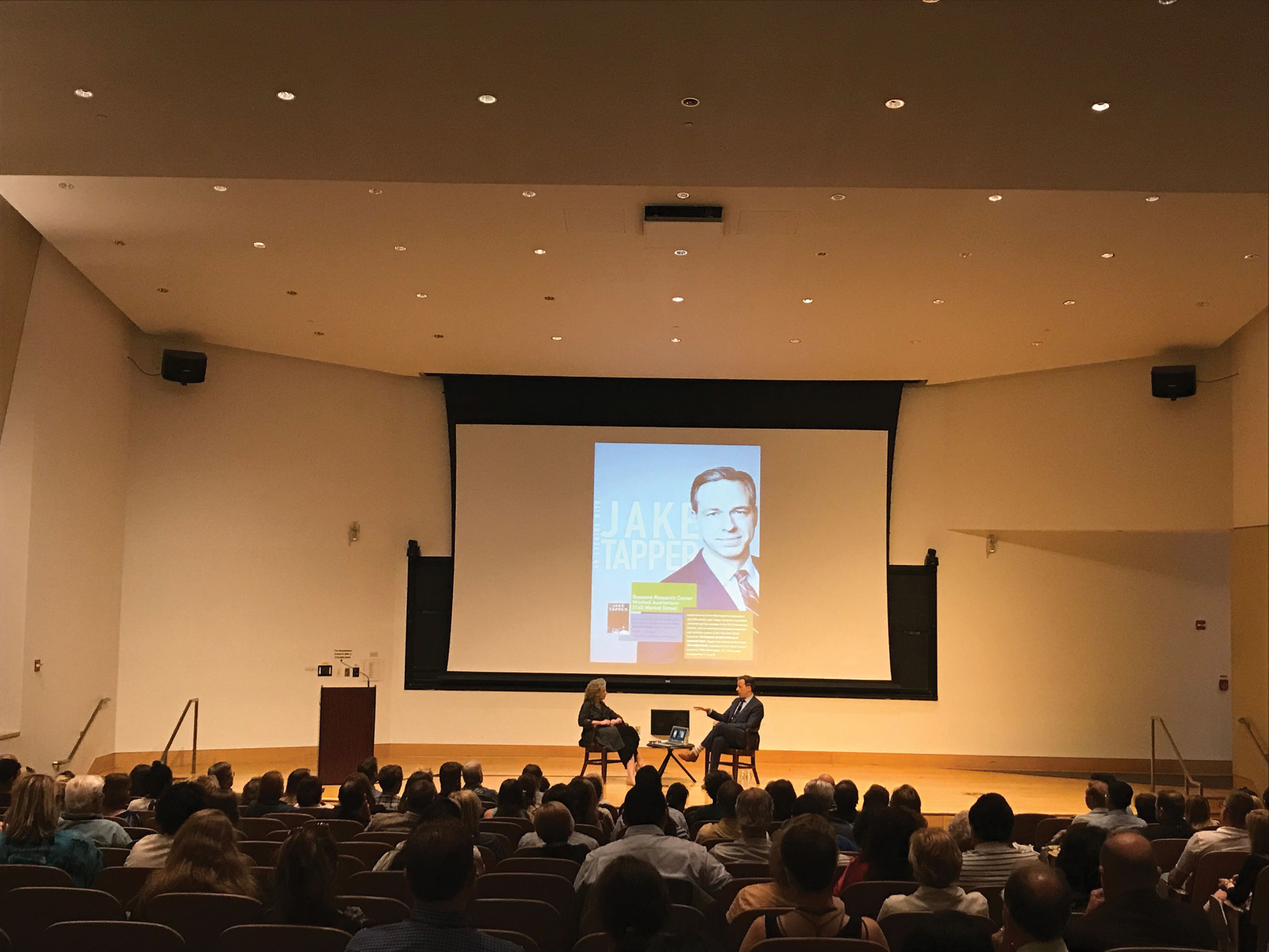 CNN anchor and chief Washington correspondent Jake Tapper attracted a modest crowd to the Bossone Research Center May 24 as he discussed his new novel, "The Hellfire Club," and the challenges he faces as a political journalist during one of the most controversial presidential administrations in history.
The conversation with Tapper, held in the Mitchell Auditorium, was moderated by adjunct professor and former CNN bureau chief Karen Curry.  She kicked off the evening discussion by asking Tapper what his experience writing fiction was like as opposed to his journalistic endeavors.
"In a way it's freeing because when you do non-fiction like I do all day, you have to stick to what the facts are," Tapper said. "But when you write fiction, you throw that out the window. You have to invent people as opposed to non-fiction because they're already there."
"The Hellfire Club" follows the imaginary story of Charlie Marder, a World War II veteran turned congressman, as he struggles to navigate the dangerous waters of 1950s Washington.  The 352-page political thriller marks Tapper's debut into the world of fiction. Claiming to be the "god of his fiction," Tapper included real-life political figures in his novel — from President Eisenhower to John F. Kennedy to Sen. Joe McCarthy. He also claimed to have changed the dates and details of actual events. However, knowing there were factual errors that his readers might pick up on, the award-winning journalist added a list of endnotes in the back of the book explaining what is real and what is not.
When addressing the audience, Tapper noted that his book takes place at the height of McCarthyism. Although he started writing the book during the Obama administration, he addressed the parallels between the novel's setting and what we see now during the Trump era.
"They say history doesn't repeat itself, but it rhymes," he said. "And you can't read about Joe McCarthy — [who was] lying and smearing and saying things that aren't true, [with] Congress not knowing how to deal with it, and reporters not knowing how to cover it — without hearing the echoes of today in terms of the lies and the smears we regularly see coming out of the White House."
Despite the book's coincidental ties to the current political climate, "The Hellfire Club" is meant to be a fun, thrilling experience for readers, said Tapper.
Tapper's extensive time reporting on politics over the years inspired him to write the political thriller and address themes that apply to what he experienced on the field.
"One of the big themes of the book is compromise," the Philly native said. "I've seen a lot of people move down to Washington, D.C. — men and women, Democrats and Republicans — with the best of intentions. In order to achieve what they want to achieve, to do good, they end up making compromises. I thought it'd be better rendered in fiction than if I write a long, non-fiction essay about my thoughts. Better to have fictitious characters illustrate what I'm talking about in wild and exciting ways."
Further into the conversation, Tapper took questions from audience members who asked for his opinion on President Trump's attacks on the media – specifically CNN, or, in President Trump's words, the "Fake News Network."
"It is not fun when people are attacking you, especially when it's the President of the United States," he said. "It's not fun that 51 percent of Republicans think that we are the enemies of the American people, according to a recent poll [from Quinnipiac University] — which is a crazy thing to think. But the most powerful person is telling them that and they are starting to believe it."
Lamont Wilson, director of degree completion programs at Drexel's Goodwin College, was one of the few attendees to ask Tapper a question during the Q-and-A session. Wilson asked Tapper to weigh in on the National Football League's new national anthem policy that requires football players to stand if they are on the field. Tapper responded by highlighting the danger of deliberate misinformation — something President Trump has engaged in, Tapper said.
"He exploits these racial tensions that exists already to rally his base," he said. "I think it's important for people in journalism to be clear about what the [NFL] protests are about —  they're about racial inequality and police brutality. But I also think it's important for people in journalism to explain why some people are legitimately offended by it. But the way the president talks about it is not healing; it is purposefully divisive."
Yet, Tapper stays determined to welcome the [resident and his supporters on his evening newscast on CNN, "The Lead with Jake Tapper," because he said it's important to hear both sides of the argument.
"There's a whole channel that doesn't care about bringing you a point of view, and there's another channel that they all support Donald Trump," he said. "Then there's [CNN] in the middle, and we're trying our best to report during this very difficult time where norms are being challenged. And by the same token, we're trying to be fair."
The New York Times best-selling author, whose work also includes three non-fiction books, concluded the talk by emphasizing the useful role of social media in the journalism world .
"It enables people to share their news in a way that before people wouldn't see it. It enables people mainly to see what other people are thinking. … just to see what people care about, and see what they're thinking on any given day, how they're responding to a story —  that's really important to me as a journalist."
After the hour-and-a-half chat, Tapper stuck around to sign copies of "The Hellfire Club" and chat with attendees.
Sarah May, a public relations practitioner who said she consumes news impartially, held her signed copy in hand as she reflected on the conversation with Tapper.
"It was important to listen to because he emphasized repeatedly to take a look at the issues from both sides, and really understand that at the end of the day we're all human."