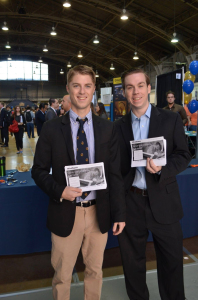 Students enrolled this fall in LeBow's unique consulting course, "Startup Consulting" or management 372, will be the first to tell you this class is not your typical learning experience. The class allows students access to real-world consulting and entrepreneurs, exposing them to the real world challenges that consultants feel every day.
Instead of textbook readings or slideshow lectures, students use their 10 weeks to function as a consulting firm and work directly with an outside company. This fall, the enrolled pupils are working with MindSumo Inc. and were granted $1,000 in funding. To utilize this money efficiently and function within the structure of a consulting firm, the class breaks into four groups covering advertising, strategy implementation, public relations and research.
MindSumo Inc. is based in San Francisco, but students neatly bridged this gap thanks to video conferencing with CEO Trent Hazy. MindSumo.com is an online marketplace where real-world corporate challenges are tackled by students. It incentivizes the experience for both parties by offering cash prizes for students and opportunities for organizations to discover new talent.
Sophomore Allison Murphy has already won $215 from the site, completing a Coca-Cola challenge in which she designed a vending machine, taking only about an hour. Upwards of 40 to 50 challenges are offered on the website every day.
Aside from winning the challenge, Murphy was excited to get her foot in the door with Coca-Cola. "Now I can message Coca-Cola right through the website for my co-op. I'm thinking of using that to leverage some contact," she said.
MindSumo was founded in 2011 and is backed by investors in Silicon Valley such as Voyager Capital, Google Ventures and StartFund. Various challenges are presented and after the submitted solutions are reviewed, the hosting company selects winners.
Matt Matwiejczyk, a sophomore in the Lebow College of Business, offers another perspective from the strategy implementation team within the class. In describing the invaluable real world experience in project management, Matwiejczyk said, "Instead of doing it in theory in classrooms, you get to follow through with your project plan."
Be warned: consulting for a real company is no easy task. "You actually run into real world problems … lack of communication caused a speed bump," Matwiejczyk said. "We were able to overcome that using professional [channels] of communication." He frequently collaborates with all four teams and develops project plans and scopes. Matwiejczyk values executing the plans he helps create in class; it ties together with what a real consulting firm would entail.
Dana D'Angelo, the professor of this business consulting class, explains the class has been running for 10 years with all different clients. Previous customers for the class include Chevrolet, Subaru, Mazda and Citibank just to name a few.
D'Angelo describes MindSumo as fun to work with; "They're an established startup, getting that small feel but they are in progress; they have the product and it's moving."
Compared to other classes, D'Angelo offers a different style of learning in this consulting course: "I facilitate, mentor and advise more than I teach." Students meet two times a week in the Gerri C. Lebow building and they also meet in their specific groups twice a week.
Students are presented with challenges and learn leadership skills and group dynamics to adapt and create solutions. This intensive 10-week project involves dealing with a real client and real money. D'Angelo has been teaching the course for 10 years, and has seen students rise and fall with the consequences of decisions they have made. "Sometimes you have to tell the client or team, [students] are learning that accountability."
The course will vary depending on the client students are working with; some are big name companies, others take an active role, but all entail the same principles. Drawing many similarities to a co-op experience, students and the professor describe the class being similar to a business meeting. Students collaborate with guidance of two coordinators acting as project managers and one part-time chief financial officer.
To become a part of this consulting course, applications must be submitted and interviews are conducted. Although not offered every quarter, this 10-week course is available once or twice every year with applications available through Lebow.
All students interviewed highly recommended the course, referencing the real life experience and skills obtained through group work. "I'm actually making a difference in a startup company," Murphy said. Murphy was inspired and motivated to excel in this class because of the real-world effects.