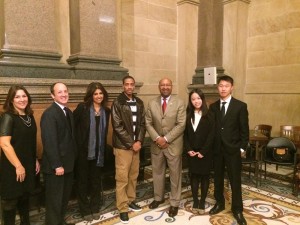 Two Drexel undergraduates presented a proposal help reduce high school dropout rates to the Philadelphia Mayor's Office of Education and a distinguished panel of judges Sept. 17. Liangjian Gao, an electrical engineering major, and Xinyi Yang, an entertainment and arts management major, won second place in the Fall 2014 Philadelphia Public Policy Case Competition, a competition that gives students the opportunity to design and present policy that is both realistic and impactful.
The Public Policy Case Competition began Sept. 17 and invited undergraduate and graduate students across the Philadelphia region to develop creative solutions to the city's greatest challenges. The idea behind the competition was to inspire local higher education students to consider their role in the Philadelphia community beyond their school and what they can do to make the city a better place to live, work and visit.
Students were presented with the problem of what Philadelphia could do to prevent the greatest number of students dropping out of high school. According to a 2011 Philadelphia Social Innovations Journal article, high school graduation rates hovered between 50-60 percent over the previous decade, far behind the Pennsylvania state average of 80 percent and national average of 68 percent. High school graduates earn on average $500,000 more over their lifetimes than high school dropouts and are less likely to end up in prison. In order to increase graduation rates and make Philadelphia's workforce competitive in the years to come, Mayor Nutter issued the aforementioned challenge as part of his initiative to reach an 80 percent graduation rate by 2015.
The team composed of Drexel students came up with a solution to the issue, a mentor-mentee program called the "Philadelphia School Scholars Program" that recruits college students to be mentors to middle and high school students. The program specifically targets populations most likely to drop out such as students that come from low-income families and students whose first language is not English. The proposal was submitted online and reviewed by the Mayor's Office of Policy Planning and Coordination and the Mayor's Office of Education. Gao and Yang's proposal was selected out of 11 other prospects and they were given the chance to present their solution at City Hall.
The program has three main areas of focus and consists of guiding middle school students to choose a high school that best fits their interests, tutoring middle school and high school students, and guiding high school students through the college application process. The solution targets at-risk students and attempts to build a relationship with them before they attend high school. By working with students while they're still in high school, the Drexel team hopes to maximize the impact of the program.
The idea behind reaching out to middle school students even though the challenge asks to address high school dropouts is that if students attend a high school that suits their individual needs, they're less likely to drop out. This method also allows college students, who choose to become mentors, to cultivate a long-term relationship and build trust with one student. Mentors that share proximity, similar interests and abilities with their mentees will have more impact than a teacher or school counselor.
Despite neither not being public policy students, the reason Gao and Yang chose to take part in the competition was because they felt a strong connection to Philadelphia and wanted to improve Philadelphia's public school system.
"Although my major is electrical engineering, I am passionate about improving Philadelphia's public high school education system," Gao said. "I graduated from Furness High School, an inner-city neighborhood school. I saw the disadvantage students attending neighborhood high schools had compared to citywide high schools. It's one of my goals to contribute something to improve the public school education system in Philadelphia."
In addition, Yang, who is an international student, was inspired by her mother to help disadvantaged students and give something back to the Philadelphia community as well as inspire other students to do similar deeds.
"This is my second year in the United States and I'm strongly attached to the Philadelphia city and this community," Yang said. "My mother is a school president and her passion in education and determination in guiding disadvantaged student has deeply influenced me. Personally, I had many positive experiences with tutoring middle school students and I thought I should contribute my past experiences and insight to help eliminate this issue. I also wanted to show that anyone can help, regardless of gender or nationality."
Even though they didn't win the competition, Gao and Yang were both excited and nervous to present their proposal to the distinguished panel of judges because it proved that their idea held promise and was considered a legitimate solution to an extremely challenging issue.
"I was thrilled and totally shocked when I knew that our team passed the first round and selected as one of the top four," Yang said. "As an international student with language disadvantages and cultural barriers, I was glad that my idea was appreciated. It was the first time that I got to meet people who are so important to Philadelphia and it was an educational and inspiring experience."
While there is no guarantee that the winning solution will be implemented, the winners will be offered the opportunity to pitch their proposal to Mayor Nutter and the city leadership and hopefully, the validation of their solution will inspire them to continue proposing their idea to funders, partners and relevant foundations.