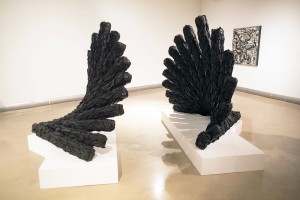 The Leonard Pearlstein Gallery, in the URBN Annex Building on 3401 Filbert St., opened a new exhibit on the works of sculptor and printmaker Chakaia Booker Jan. 13. The exhibit, "Are We There Yet?" included sculptures made from used tires, as well as paintings and prints. The display will be running until March 8.
Guest curator and professor of art history from Towson University Susan Isaacs worked with Drexel University professor of fine arts Orlando Pelliccia in order to organize the exhibit, after Pelliccia invited Isaacs to present the works at Drexel.
"I have known Ms. Booker's work for many years as she is a well-known artist. I had heard her give a talk before too," Isaacs said on what attracted her to Booker's works. "I have always loved her work and contacted her to see if she might be interested in doing an exhibition at Towson U. It was a beautiful show and she agreed to move it to Drexel. However, the Drexel Gallery is much larger than the space we used at TU, so we enlarged the show," she continued.
Booker graduated from Rutgers University in 1976 with a bachelor's in sociology and went on to receive a master of fine arts agree from The City College of New York in 1993. Her wall sculpture It's So Hard to Be Green received much attention during the 2000 Whitney Biennial and she received the Pollock-Krasner Grant in 2002 followed by a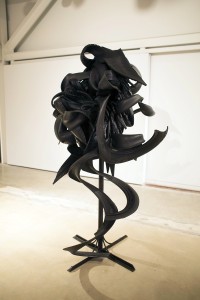 Guggenheim Fellowship in 2005. Her works have been featured all over the world.
At the gallery, there is posted a statement written by Isaacs on Booker's work. "As an artist, she addresses these issues through visual metaphor, utilizing both abstract and recognizable elements that draw from the contemporary landscape, including graffiti and those ubiquitous discarded tires by the side of the rode," it reads, "But her works are deeper and more mysterious that these obvious references. They are powerful images that command attention, at once fanciful and solemn. Her works stand as testimony to art's transformative impact, pushing us to ask significant questions about the world around us."
Bookers work involves sculptures made of black tires featured into different structures, some pieces large enough to cover entire walls and others tall enough to dwarf people. "I love all of the works. But, for me, there are four extremely powerful works in this show: Echoes in Black, Eminent Domain, Handle with Care and Industrial Perpetuosity II," Isaacs continued. Talk about her experiences as an artist. Some of her works resembled known structures of bulls or a vagina. There are other structures that jut out and curve into the air.
Booker visited Drexel University Jan. 15 to give a presentation on her works and her life as an artist. She was introduced by Pelliccia and Isaacs. Laden in a large headdress, sweatpants and converse, she began speaking about her life in graduate school, beginning her studies in ceramics. She began to question her plan of study. After receiving advice from her professor, she decided that it was best for her to pursue art in sculptures.
Many of Booker's works are from recycled materials, other than the tires she mostly used for the sculptures on display in URBN Annex. One of her sculptures uses old fruit that was turned into a piece that could also be used as a wearable vest. Booker commented on how she could still smell the tangerines and oranges that made up the piece. There are other pieces that she used in order to wear as pants. For some, she would make duplicate pieces in order to turn pieces into entire displays that would reach from the wall, all the way up to the ceiling.
Booker also made many pieces that were inspired by fairytales, taking images from "The Wizard of Oz" in order to make shoes made from recycled tires. Some of the pieces were inspired by her experience living in New York.
Booker took questions from the audience after her lecture, many of them asking questions about how she had come up with her work. "I should get paid to make titles," she said answering one of the questions and the audience had to agree. The exhibit at the URBN Annex is open from now until March 8.