A groundbreaking ceremony for the newly named Raymond G. Perelman Plaza was held May 7. The event marked the beginning of construction for a complete renovation of the current plaza, which is set to become Drexel's primary space for outdoor socializing and events.
The space is located between Market and Chestnut streets. It is currently a hub for pedestrian traffic, especially because it is situated between the two largest construction projects on campus. The plaza's northern border will be the new LeBow College of Business building, which cost an estimated $92 million and is set to open this fall The southern border will be the $98 million Chestnut Square development, which will contain a mix of student housing and retail space and is also set to open this fall.
President John A. Fry opened the event with a speech thanking Perelman for his generous donation and his commitment to Drexel. "Vision has always been Perelman's strong suit," Fry said.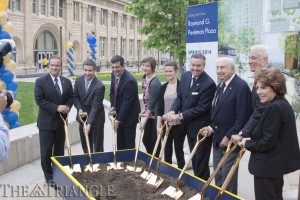 "This plan calls for the Perelman Plaza [to] be Drexel's physical center of gravity. This will be the 50-yard line of Drexel University, and we don't even have a football team," he joked.
The entire reconstruction is part of Drexel University's master plan, which focuses on establishing Drexel as a modern urban campus. The development is a four-phased, five-year process designed to draw the community to shared spaces as well as integrate Drexel into the surrounding neighborhoods.
Developments anticipated in the coming years include building a mezzanine-level student gathering space in the Armory, relocating the Steinbright Career Development Center to 32nd and Market streets, and creating a new home for the School of Public Health in Nesbitt Hall.
The more ambitious goals include redeveloping the site of the Hess Engineering Research Laboratory into retail and housing units, building over and developing the Schuylkill Rail Yards, and expanding the College of Information Science and Technology pending a benefactor.
Students at the groundbreaking ceremony were positive and relatively excited for the changes.
"Throughout my freshman year there has been construction going on around Drexel," Viral Desai, a senior business administration major, said. "It's really great that Drexel's doing all of this."
Zac Rubin, another senior business administration major, had similar sentiments. "These are definitely good things. I'm glad Drexel is revitalizing the neighborhood, but it's a shame I won't be around to see it completed. I look forward to coming back as an alum[nus], though," he said.
The Perelman Plaza's restoration was made possible by a $5 million donation from the Raymond and Ruth Perelman Education Foundation. Drexel University's College of Medicine awarded Raymond Perelman, the plaza's namesake, an honorary degree in 2012.
The landscape architecture will be completed by Andropogon Associates Ltd. Jose Alminana and Tom Amoroso both represented the firm at the ceremony.
A highlight of the event was the speech given by Perelman himself. "I didn't realize that people wanted me to speak, so I'll be very short. Thank you all for coming, and I am overwhelmed. … This is a fabulous university, and I'm glad to become a part of it. Thank you very much," he said. His speech received a standing ovation from the audience.
The campus master plan will theoretically be fulfilled in conjunction with the University's overall strategic plan, a longer, 30-year proposal. A notable goal of the strategic plan will be enrollment prioritization. By 2021 the University hopes to increase the student body to 34,000 students. Including online students, there are currently 25,500 students enrolled at the University.