With the government shutdown entering its second week, the effects of the stalemate are rippling out from Washington and affecting Drexel students in numerous ways.
Three employees of Drexel's Army ROTC chapter returned to work Monday after a week of being furloughed due to the shutdown. In addition, Senior ROTC cadets' monthly stipends will be delayed starting Oct. 15 until Congress comes to a resolution on government appropriations, according to a letter circulated by Mike Johnson, a representative from the Public Affairs Office for Cadet Command at Fort Knox.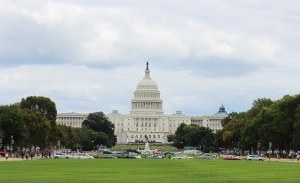 "Until Congress comes to a ruling on government appropriations, we are not able to award new scholarships or contracts," the letter read. "We will continue to work with each student that is interested in being a part of ROTC, and once the appropriations bill is approved we will move forward on finalizing any outstanding scholarship or contracts."
According to an Oct. 9 article published on DrexelNow, the shutdown has "forced a delay in federal grant applications for Drexel researchers" and "shuttered a number of online information sources used by students and employees."
Elaine Varas, senior executive director of Drexel's Student Financial Aid office, told DrexelNow that she was concerned that because of staff furloughs at the U.S. Department of Education, some financial aid programs could experience delays if the shutdown stretches on for much longer.
Still, other government-sponsored programs at Drexel have yet to feel the effects of the shutdown.
A number of facilities that utilize the Federal Work-Study Program at Drexel, which provides funds for part-time employment to help students finance the costs of their education, have reported that their students are still receiving pay and don't anticipate they will have trouble doing so any time soon. According to the Department of Education website, approximately 3,400 colleges and universities have students that utilize this program.
Still, the government sequester, a separate federal issue that went into effect Jan. 1 of this year, had a significant impact on the number of students who received work-study funds this year.
Tori Kenion, a business major and coordinator of student staff at the Recreation Center, said that she has seen a significant drop this school year in the number of applicants for work-study positions.
In the 2012-13 school year, the Recreation Center employed 486 student staff members, a portion of whom were paid through work-study. This year the numbers are roughly the same, but the demand for positions has greatly decreased.
"Basically, because of the government sequester, a lot of funds for students were lowered or cut," Kenion said. "Usually half of the applications that come across my desk are from students with work-study. Now it's like 10 percent."
Kenion said that a number of students who had spent several years working at the Recreation Center were unable to return to their positions for fall term because their work-study funds were not renewed.
The Recreation Center wasn't the only Drexel facility to experience the effects of the sequester.
Shin Amano, the circulation coordinator for Drexel's Hagerty Library, estimated that the student workers covered at least four or five full-time staff members' worth of work.
"There have been some delays," Amano said. "Processing applications for work-study positions took them longer. I was told less money was given out and they got a little more strict about income."
The library hasn't had any delays in payments for the students, but Amano said he could understand that for students it could seem scary waiting to see if a program might get cut.
Although many of the funds seem to have been provided to Drexel before the government shutdown took effect, the dwindling numbers of work-study applicants could pose a problem later in the year.
Kenion pointed out that students with work-study positions can easily earn their allotted funds in one quarter, leaving a smaller pool of workers to cover shifts when spring term arrives.
"Whether our staff is 486 or 300, we're going to function no matter what," Kenion said. "It's made my job harder. I have to do a lot more reaching out and finding people, but at the same time, that's my favorite part."
Still, the full effects of the government shutdown might not be felt until later down the road.