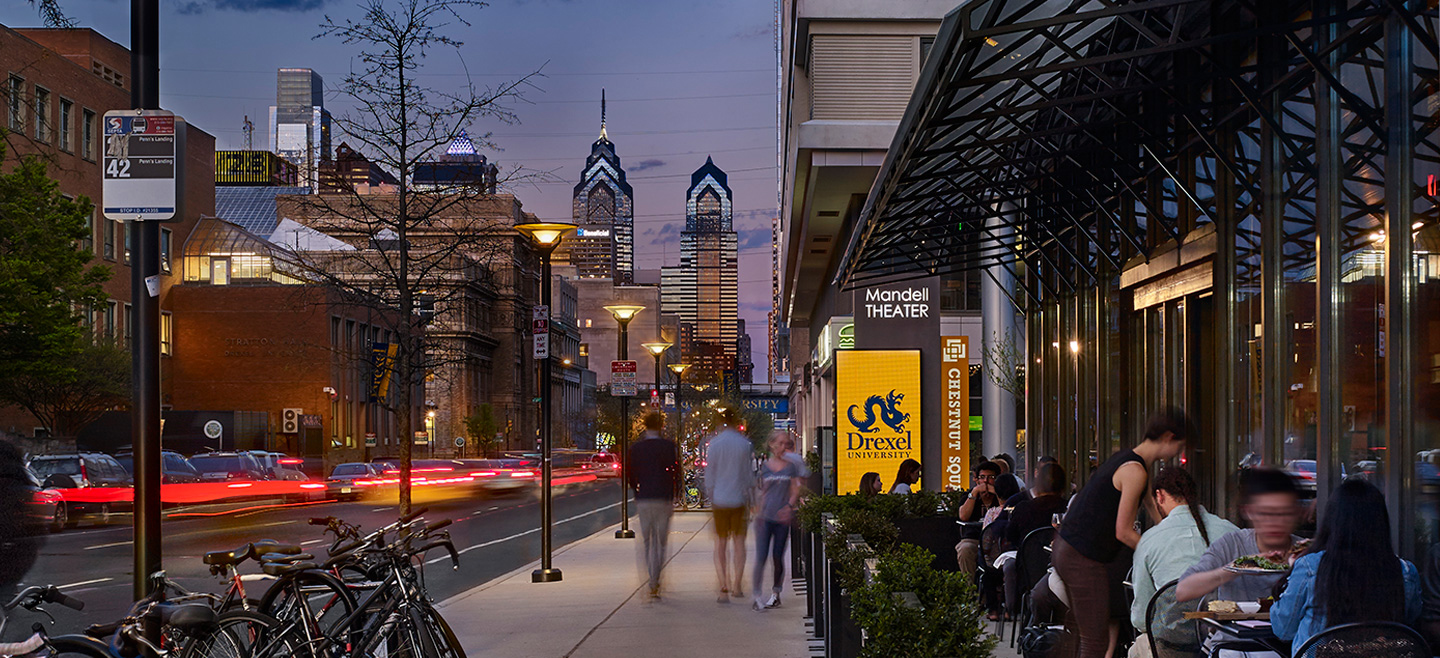 As Drexel University anticipates its largest-ever incoming freshman class, Campus Services has been gearing up to solidify housing plans while also enhancing dining options to accommodate these record-breaking numbers.
More than 3,600 accepted students have submitted deposits to start as freshmen next fall, although the university projects the finalized number to stoop to around 3,300. While this number has sparked an escalation of university planning to bolster offerings for freshmen, Vice President of Campus Services Rita LaRue assures that the university is prepared for the influx.
"The team and I are always ready to be flexible and to respond to what the needs are," she said. "We are well-positioned to make sure housing and dining needs for freshmen are set and are going to be exactly what's needed in that first year experience."
While university housing has never accommodated this many students before, LaRue said there will be enough housing available on campus without requiring additional resources, while also noting the university's past success of coordinating arrangements.
"We've always been successful at making sure all the students have the housing option that they need," she said. "We manage the supply and demand very closely."
LaRue said the plan's main focus revolves around thoughtful renovations to pre-existing infrastructure.
In addition to renovating Calhoun Hall, which is expected to be ready by Fall 2019, the university will also be converting lounges in Myers Hall into bedrooms — a tactic that has been done in the past that she said students seem to enjoy.
Other accommodation strategies of the past, she explained, include working with American Campus Communities to issue master leases so that students can live on ACC properties — The Summit, Chestnut Square and University Crossings — but still be billed through Drexel. They have also reverted to creating triples within some residency halls, though she said this is typically not desirable to many students.
There are no plans to build new facilities at this time, according to LaRue, though she said Drexel is constantly thinking about growth and that new housing venues will most likely arise as the city grows. She said Schuylkill Yards, for example, could present a potential setting for a future Drexel residency, which could modernize the housing experience by allowing students to work, have class and reside all within the giant hub.
But no matter what alterations ensue in the future, she assured that freshmen options will most likely always stay rooted on campus.
"We're very committed to the freshmen first-year experiences in the resident halls," she said. "We do keep that as a priority."
She said this policy is strictly adhered to because it is vital for adjusting students — especially at an urban campus like Drexel — so that their basic needs are taken care of as they adjust to other academic and vocational stressors.
Throughout the growing student population, LaRue also said the two-year residency policy will likely remain intact, though how the university defines it with the types of housing options the students can choose from will very likely evolve and change.
While many of these housing decisions will be made later down the road, LaRue said Campus Services will remain rooted in one general philosophy.
"It's about offering the choice so that the students can customize what's best for them," she said. "Drexel is not a one-size-fits-all type of institution; we want to give our students choices and options and we want them to choose."
Wanting to personalize the student experience also extends to campus dining, according to LaRue who said that her team is actively working to improve dining plans for increased flexibility.
Not only are they in the process of enacting guest dining passes for meal plan holders, but she said they are also looking to create more dining plans for upperclassmen that fit particular lifestyles for certain populations of students such as athletes, those on co-op and anyone with dietary restrictions.
In addition to changing the apparatus of freshmen dining, she explained how there will be cosmetic changes as well, assuming that their plans run smoothly. There will be a refresh done to the Chick-fil-A — the campus' number one retail location — and the sushi station within the dining terrace will see an increase in menu items. They also plan on replacing tables and chairs at Urban Eatery with soft seating to create hangout spaces.
Another one of their biggest initiatives includes expanding vegetarian and vegan items. They hope to see a station at the Urban Eatery dedicated to this diet, and in fact, a graduate class in the culinary program is currently working with Aramark to develop these options.
LaRue said she is excited to see what else will come out of Aramark now that they are becoming more acclimated to Drexel.
"They're going to be able to start taking things to the next level and we're going to be able to innovate," she said.
While she and her team are focused on change, she said she advocates for continuous improvements throughout the year, rather than bombarding students with too many changes at once.
More changes are sure to be announced, and she explained how they are constantly communicating with students for their input.
"One thing I know from my experience at Drexel, we are very student-responsive," she said. "We will always listen carefully to what the students are telling us in a variety of feedback to find out what they want."