Drexel's Campus Activities Board held a weeklong set of activities that will culminate May 19 with the organization's annual Spring Jam concert series, featuring Super Mash Bros. as the headliner.
As with last year's Spring Jam, the winners of the Drexel Voice and Drexel Battle of the Bands competitions, Marcus Franklin and Flint, respectively, will open for the headliner along with local rock bands Cheers Elephant and The Wonder Years. Local electronic act Man Man will perform, as will another electronic group, LA Riots. Super Mash Bros. is a mashup group in the same vein of sampling and remixing as Girl Talk and White Panda.
"This year, we are doing a music festival format with a variety of different artists and genres —specifically two genres (rock and electronic). By having multiple artists perform, there is a greater chance that more students will like the artists that we selected," Julie Paradiso, the traditions director of CAB, said.
One other concert was held on Drexel's campus in the week prior to Spring Jam as part of CAB's weeklong celebration, which featured several free on-campus events. Indie rock group Titus Andronicus performed May 16 at Flux, where CAB gave out free Spring Jam-screenprinted bags and offered free screenprinting for students who brought their own piece of clothing and wanted the Spring Jam 2012 logo on it.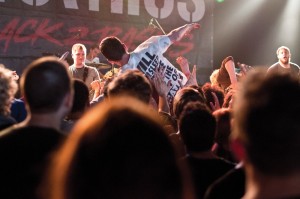 More screenprinted items, including bags and merchandise, will be available May 18 at the Spring Jam Block Party at Buckley Green through the Prize Wheel that students can spin for prizes.
The Block Party will also feature a DJ competition where the winner will play in between the sets at Spring Jam. Other competitions occurring at the Block Party include an eating competition and a volleyball tournament.
Keeping in theme with the combination of rock and electronic music for Spring Jam, the winner of the Battle of the Bands competition, Flint, will also log in studio time at Milkboy Studios in addition to performing because they won the contest held May 5. The winner of Drexel Voice, freshman entrepreneurship major Marcus Franklin, will also have a slot at Spring Jam. Drexel Voice was held May 1 and May 8.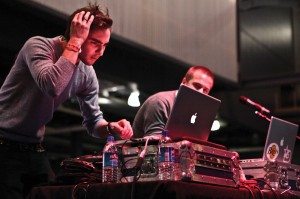 CAB was inspired to put together a festival featuring a rock band from student responses, as Spring Jam has featured hip-hop headliners like Lupe Fiasco, N.E.R.D, and B.o.B for the past three years. Additionally, Drexel students had two opportunities to see hip-hop artists perform at concerts put on by the Dragon Concert Series when Chiddy Bang performed at Midnight Madness and Snoop Dogg performed at Homecoming in January.
"We took this in consideration when selecting our artists to make sure that all genres were represented on campus," Paradiso said.
Students nominated artists for Spring Jam, and CAB organized a poll in which 1,500 students voted. According to Paradiso, over 200 artists were checked for availability.
"We made our choices based on the poll results, pricing and availability. We chose to do this because we wanted the students to be involved in the artist selection process from the beginning," she said.
"Every suggestion that we received from the students was on the poll, except for the suggestions that were completely impossible to bring to campus due to budget restrictions," she said.
Once the final artist was picked, CAB organized a digital scavenger hunt that started May 7. Students could pick up clues to unlock the official Spring Jam artist announcement using QR codes.
The nine puzzle pieces with codes were printed on biodegradable paper and hidden around campus for students to find. Once the students found all of the pieces, the puzzle unlocked an image of the headliner on the Spring Jam website.
The first person to solve the puzzle, Advi Bishnoi, won VIP Passes to Spring Jam.
Over 800 students participated in the Artist Announcement Contest, which was dreamed up by A. J. May, a junior in the music industry program and a member of the Traditions Committee. According to Paradiso, he created the contest and integrated it with the official website for Drexel's Spring Jam.
"We all fully supported this contest because we thought it was a great way to build suspense and excitement on campus while engaging the students at the same time," she said.
Admission is free for Drexel students with a valid Drexel ID, and one guest ticket per student may be purchased for $15. Guests will only be admitted with their host.
Spring Jam will be held May 19 from 4 to 10 p.m. in Parking Lot F, next to Curtis Hall and the Alumni Engineering Labs on Drexel's campus.
For more information about the contests and Spring Jam itself, visit the official website at drexelspringjam.com.