Wayfarers have hit Drexel just in time for spring break thanks to the Philadelphia-born sunglasses company Butter Shades, founded by Drexel graduate student Michael Merryman.
Merryman, 25, is pursuing his master's degree in public policy and focusing on urban redevelopment projects in Philadelphia. He started Butter Shades after gaining inspiration from the various T-shirt shops found at the Jersey Shore.
"I thought it had to be a lucrative industry. … [But] I don't have design skills. I started looking at other accessories," Merryman said. "I wanted to do something; an e-commerce website, something online that didn't need a storefront or anything like that."
When it came to start a company based around sunglasses, Merryman said the idea stuck.
"I thought it would be a good idea. It's been cool," Merryman said.
The company, which hit its one-year anniversary this week, creates Wayfarer-style custom sunglasses that come in various colors and designs, from the Butter Yellow Primo Spreads to the traditional College Spreads.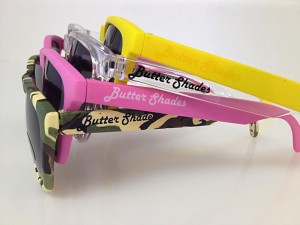 With the help of a friend who focuses on marketing and design, Merryman said he sits down every month to look over popular styles and trends that he can incorporate into his shades. All of the design is done in house.
Merryman said that one of the biggest aspects of the company, however, is donating a portion of every sale to various nonprofit organizations. The company usually donates 5 percent of each sale to charity, though that percentage increases to 8 or 10 percent for special causes.
"Initially it started out as sort of any nonprofit in the city that we thought we could contribute to," Merryman said.
Butter Shades originally partnered with Project H.O.M.E. in Philadelphia, a nonprofit organization that works to "empower adults, children and families to break the cycle of homelessness and poverty," according to its website.
The company then realized it could extend donations outside of Philadelphia to many different nonprofits. According to Merryman, Butter Shades recently partnered with the District of Colombia-based company Causetown, which has allowed them to make donations to many more nonprofits.
"What [Causetown does] is actually allow our customers to donate to any nonprofit they want," Merryman said.
When customers place an order for Butter Shades, Merryman said Causetown will email them to thank them for their order and allow them to click on whichever nonprofit they would like the proceeds to benefit.
"It gives the customers a little more of a 'customer experience,'" Merryman said. "And makes it more personalized, too."
The higher percentage of donations have gone to organizations like Susan G. Komen for the Cure, supporting breast cancer awareness, and Lax For The Cure, a lacrosse organization that partners with breast cancer awareness nonprofits. To support these causes, Butter Shades created a specialized pair of pink sunglasses with the pink breast cancer awareness ribbon printed on each pair.
Besides nonprofit donations, the company is looking toward building a successful future and recently hit its break-even point.
"Right now I'm really focused on building inventory," Merryman said. "A lot of people like the sunglasses; we're getting a good response. We just need more styles, more colors — and we're working on that right now."
With a small marketing budget, Butter Shades utilizes social media to get the word out and actively updates its Facebook, Twitter, Pinterest and Instagram profiles. The company's Twitter profile is its largest marketing base, with over 2,000 followers.
Butter Shades recently partnered with the local event listing-based social network The Socialer, which has helped to expand the company's market to local Philadelphia clubs, working with disc jockeys and their promotional events. This has expanded the company's focus from small, personal orders to bulk, company and event orders. Merryman said that he has seen a definite increase in sales because of the effort.
Describing the whole process of building up his company, Merryman said it has been "up and down." Working for another job and also creating a mobile application, he said he's busy but likes working on other projects.
"If you make calculated risks, the reward can be great," Merryman said. "It's about finding your niche. … We're not really inventing the wheel here with sunglasses; we're just trying to carve out our little niche and get our market share. … At the same time, I've seen a really great response with donating back to the community."