He wasn't wearing a sweater, but Bill Cosby did wear a Drexel T-shirt when he toured Drexel University's 11th Street Family Health Services Center April 24.
The entertainer will also work with the Center Oct. 5 when he will hold a benefit fundraiser event, titled "An Evening with Bill Cosby," to raise money and awareness for the facility's expansion project.
"We wrote him a letter telling him we needed his help to help us, and he called us and said that he would do a benefit performance for us," Jean Papaj, the director of Marketing and Communications at the Drexel College of Nursing and Health Professions, said.
Cosby, a Philadelphia native, grew up in the Richard Allen housing project in the 11th Street Corridor near the nurse-run health center's North 11th Street location. He was in town for the Penn Relay Races and was able to visit the Center.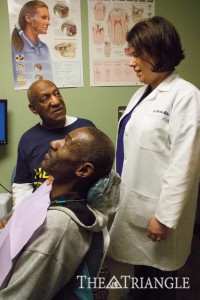 "He was very generous in giving us his time and that's why having him come to the center was even more than what we could have expected. It was great," Papaj said.
After posing for pictures with the staff, Cosby surprised both staff members and patients when he dropped in on activities in the Center's dentist's office, workout room and a nutrition class making smoothies in the kitchen area.
When Cosby returns to Drexel to work with the Center, it will be for his benefit performance.
"He will be on stage for an hour to an hour and a half doing his standup routine—whichever one he chooses to do that day," Papaj said.
There will be two phases to the project. The first will be an expansion to double the size of the building using the land adjacent to it, which Drexel already owns.
"We're right now working with various authorities on the plans, but it all is contingent on getting the money to do the work," she said.
According to Papaj, phase one of the expansion will require approximately five million dollars. The Center is hoping that people will donate to the project.