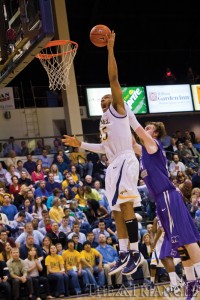 The Drexel men's basketball team has suffered its first loss in what seems like all season, as the team hasn't lost a game since Jan. 2. Junior Derrick Thomas was recently charged with simple assault and criminal trespass. The charges stem from an incident that took place in December on La Salle University's campus, according to a source from the Philadelphia Police Department who spoke with the Philadelphia Inquirer earlier this week.
Thomas, a Bronx, N.Y. native, has been placed on interim suspension by the University pending the outcome of an investigation by the Philadelphia Police Department with the full cooperation of the Drexel University Department of Public Safety. The 6-foot-4-inch guard surrendered himself to the police and was later released on his own recognizance.
"We're taking this matter very seriously," a University spokesperson said. "It's very disappointing on many levels."
Head coach James "Bruiser" Flint had no comment on the matter.
Thomas, who has already been inactive for one game — Drexel's 73-72 win at Old Dominion University Feb. 25 in their regular-season finale — will also not be participating in the upcoming Colonial Athletic Association Tournament being held March 2-5 in Richmond, Va. The Dragons have a first-round bye in the tournament and are the No. 1 seed after winning the regular-season championship by going 15-2 in conference play.
Unfortunately for Drexel, this is not the first time in recent memory that the men's basketball team has been under scrutiny for player misconduct. In July 2010, then-starting point guard and leading scorer Jamie Harris and reserve forward Kevin Phillip were dismissed from the program. The two were charged with robbery and weapons possession after a robbery that took place at a Drexel student's off-campus apartment. The two were caught on the apartment's security footage and turned themselves in days later.
As for Thomas, the junior's absence will be very detrimental to his team's performance. He is averaging eight points, 2.3 rebounds and 31.9 minutes per game this year. He is also shooting 38.4 percent from the floor, including 34.5 percent from three-point range.
Although those aren't the most impressive numbers, Thomas' main contributions were made on the defensive end, where he has constantly been one of the stoutest defenders in the CAA during his career at Drexel.
Stepping up and taking his place will be fellow junior guard Chris Fouch, the team's leading scorer from the 2010-11 season and former CAA Rookie of the Year. Fouch, who is no slouch as the aforementioned accolades show, is a very talented offensive player whom Flint uses wisely — as the sixth man in a seven-eight man rotation who can come off the bench and provide an offensive spark whenever necessary.
The drawbacks of this charge are twofold. First, Flint will no longer have the option of rotating Fouch in when the team needs a spark or when freshman standout guard Damion Lee struggles. Second, although Fouch, also a New York native, is a talented player, his defensive skills pale in comparison to those of Thomas.
Fouch doesn't have too many worries, though, as his 15 points in his first start in place of Thomas were huge — none larger than his last two free throws to give Drexel its 72nd and 73rd points — in the Dragons' win over ODU.
Another player that will see an expanded role will be freshman guard Aquil Younger. The Philadelphia native will be assuming the role of that third rotational guard player and will have to cut down on his turnovers — 24 total in just 7.5 minutes per game — if the Dragons are going to succeed.
Drexel's next action on the court will be March 3 at noon when they face the winner of the first-round matchup between James Madison University and the University of North Carolina-Wilmington.
They will also be entering the tournament with many new accolades, including two All-CAA players — sophomore point guard Frantz Massenat was named to the first team, while senior forward Samme Givens was named to the second — one CAA Rookie of the Year — Lee — and one CAA Coach of the Year — Flint earned the record breaking fourth of his career.