Drexel University's Laurence A. Baiada Institute for Entrepreneurship held its second annual Entrepreneur Showcase Nov. 6 at its new home in Gerri C. LeBow Hall The event provided an opportunity for startup companies within the institute to exhibit their business to students and faculty on campus.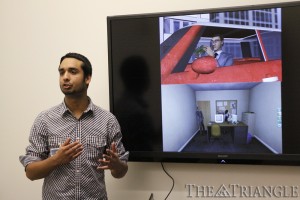 According to Terri Zobel, director of programs and services for Baiada, the institution follows the mantra of incubating ideas, entrepreneurs and companies. The Baiada Institute offers aspiring Drexel entrepreneurs, students and alumni alike the resources they need to help get their business ventures off the ground. Baiada provides office space, telecommunication service, office supplies and mentorship support from industry professionals for the companies.
There are currently 15 companies being incubated by the institute. The 12-year-old establishment has helped over 50 start-up companies enter the marketplace. One of the more prominent startup businesses that went through Baiada's incubation program is Zagster, a city-wide bike sharing company founded in 2007 by Drexel alumni Timothy Ericson, James Perkins and Jason Meinzer, recently raised over $1.2 million in funding.
When asked which company has been the most successful through Baiada, Zobel said, "It's hard to measure success. The definition of success varies from person to person, and success to a company may not be financial growth but rather expansional or other forms of growth."
The showcase followed an informal format where visitors were able to converse with the student entrepreneurs about what their current goals and challenges were for their respective companies.
"I was motivated to become an entrepreneur through my love for videos games, passion for entrepreneurship, and desire to fight corruption. … You're making a career move rather than a job move," Aradhya Malhotra, founding partner of Skyless Game Studios along with Oleks Levtchenko and Chris Bennett, said when asked on his reasoning for becoming an entrepreneur.
Skyless Game Studios develops games to support educational and philanthropic causes of global concern such as corruption, autism and water conservation. Malhotra's current project is SkyDrake Productions, a joint venture of Skyless Game Studios and the S&L Group, a holding company formed by anti-money laundering specialist Jack Smith and political corruption consultant Tom Lasich. SkyDrake Productions' focus is on games and simulations to educate government officials and students on investigative skills.
Another company that showcased itself was 215 Marketing, a digital marketing firm co-founded by Drexel graduate students Garrett Gillin and Jon Vogel, along with Saint Joseph's University alumnus Edward Reybitz and West Virginia University alumnus Josh Gimble. The firm follows a client-focused business model, and offers free website and marketing consultation for anyone who needs help.
Annually, the institution hosts three different business plan competitions: a Business Concept Paper Competition, the Ian J. Berg Business Plan Competition, and the Baiada Business Incubator Competition. The business concept competition and the business plan competition are both open to all Drexel students, and the incubator competition is open to all Drexel students and alumni. In order, the business concept competition requires students to submit a three-page business idea by Feb. 3 for a chance to win a $1,000 grand prize; the business plan competition requires students to submit a full business plan by April 7 for a chance to win a $3,000 grand prize; the business incubator competition requires teams to submit their fully developed business models by Aug. 8 for a chance to win a $33,000 prize, along with a one-year contract for office space in the Baiada Incubator and in-house services ranging from legal assistance to marketing advice. Any student who is affiliated with Drexel as a student or alumnus is allowed to compete (teams may have members who are not Drexel-affiliated as long as there is a Drexel student leading the group).
For interested students, it should be noted that Drexel's Charles D. Close School of Entrepreneurship, in conjunction with the Baiada Institute, offers opportunities for students to use a business they started or plan on starting in place of a co-op experience. In addition, many of the startups within Baiada offer internship and co-op opportunities to students here on campus. Zobel encourages students to visit Baiada's website at lebow.drexel.edu/Baiada/ for more information on its upcoming events.