Astronauts and Drexel alumni Chris Ferguson ('84) and Paul Richards ('87) participated in a panel discussion and were honored at a gala Oct. 26 at the University, during which they reflected on their careers, the end of the space shuttle program and what the future holds for NASA.
Both studied mechanical engineering at Drexel in the early 80s before eventually making their ways to NASA, where they participated in a total of four shuttle missions and clocked more than 50 combined days in space. Ferguson served as commander on Atlantis mission STS-135, the final mission of NASA's Space Shuttle Program.
During the gala hosted at the new Papadakis Integrated Sciences Building, President John A. Fry welcomed Ferguson and Richards back to Drexel and expressed his appreciation for their careers and their contributions to NASA as a whole.
"Few American endeavors have captured the nation's spirit of adventure and innovation like our space program, and few Americans embody leadership and individualism quite like astronauts," he said.
Throughout both events,  Ferguson addressed students, faculty, alumni and trustees of the University. He explained the challenges and the rewards of being an astronaut, focusing on his experiences aboard Atlantis last summer.
"I want to convey a message of how profoundly proud I was to represent this great nation in what was for me a solemn yet pivotal event, and that was the last flight of the American icon, the space shuttle," Ferguson said.
Members of the Drexel community gathered to watch the telecast of the historic launch July 8 at a launch party hosted by Dean of Engineering Bruce Eisenstein and about 150 of his colleagues.
Ferguson and Richards also spoke at a panel discussion Wednesday morning, held in Bossone Auditorium and moderated by Terry Ruggles of NBC 10 News. The event, open to students, was hosted by the College of Engineering and also included a question-and-answer session. Eisenstein saw this event as an opportunity to engage students with the astronauts in order to show them their own potential.
"These kinds of stories inform our current students about what their opportunities are. This gives them an opportunity to hear about some career paths and things to get involved in," he said.
Students from  local elementary and secondary schools also attended the discussion, during which Ferguson and Richards spoke about various aspects of space exploration, including the training each astronaut receives, advice given from one astronaut to another before a spacewalk and the logistics of shuttle missions.
Richards was part of the team that flew Discovery in March of 2001. His position of mission specialist on this particular expedition involved a 6-hour spacewalk outside of the shuttle. He shared with the audience two pieces of advice that fellow astronauts had given him while he prepared for the mission.
"They told me to 'make a memory. Focus, look down at Earth,'" Richards said. "Sometimes astronauts, caught up in the particulars of the task, forget to appreciate their uninhibited view of Earth while they're outside the constraints of the shuttle."
Richards emphasized the necessity for balance between appreciation and caution while he worked.
The astronauts had an opportunity to answer questions from the audience after the more structured discussion with Ruggles. During this time, Richards elaborated on what could be seen from the shuttle windows during his mission.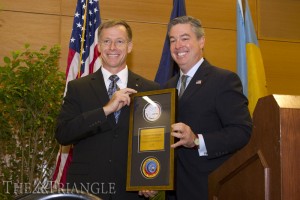 President John A. Fry presented astronaut and Drexel alumnus Chris Ferguson with the patches designed for him by Drexel graphic design students. Ferguson wore the patches on the final mission of NASA's Space Shuttle Program, during the summer of 2011.
"Parts of the earth look like nobody's here. But in other places, you can see the smog. You can see man's presence in certain parts and the absence of people in others."
Prompted by a question about eating during missions, Ferguson explained how sticky foods, especially peanut butter, are ideal when astronauts are fighting zero gravity for their meals. He talked about the strange objects he has taken with him on the shuttle, including jerseys of Philadelphia Phillies players Cole Hamels and Chase Utley, a drumstick, and a spinning top.
Both Ferguson and Richards agree that their college educations played a significant role in their careers with NASA. Although they did not know each other while they were studying at Drexel, they reaped similar benefits.
"I really appreciated how practical Drexel was. I think had I gone to another university, I would've had to either work harder, or life would've taken me down a different path," Richards said.
Ferguson agreed, but emphasized the impact that Drexel had on him as an intellectual, not necessarily as a mechanical engineer. He said, "What I really learned at Drexel was how to learn. It's the ability to think logically and find the shortest distance between two points. Be efficient, be effective. That's what college really teaches people."
Richards described the advantages that space exploration has brought to countries that have space programs.
"The countries that have exploration have a higher standard of living for their people. Part of it's the unknown. Part of it is medical, the pharmaceuticals. Some of it is space science and the technology that you have to develop to put humans in space."
As an example, he explained that if NASA never needed to be able to bring computers to the moon, there would have been no reason to make them smaller and more efficient.
Although the U.S. has currently suspended its human spaceflight programs, the work of NASA will continue to be influential, according to Ferguson.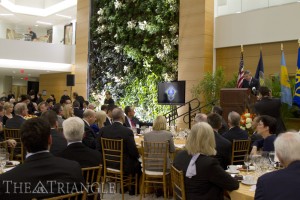 A gala was held at the Papadakis Integrated Sciences Building Oct. 26 to honor two Drexel graduates and astronauts for their achievements in space.
"NASA is alive and well," he said, explaining that funding has been shifted to research to help develop the next generation of spacecraft. According to Ferguson, the U.S. maintains a strong relationship with the Russian Cosmonauts, and the International Space Station is still up and running. Additionally, a new rover is scheduled to land on Mars in August 2012.
Eisenstein envisioned an event that would reunite the two alumni with the University and provide current students the opportunity to interact with them and understand engineering on a greater scale.
"If you have problems that have constraints on them, it forces you to be creative. As a result, people in the [space] industry are always being creative, thinking of wholly new ways of doing things that no one has ever really thought of before. And that's how we make progress technologically."
Additional reporting by Julia Casciato.