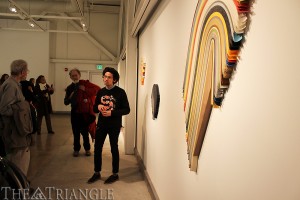 The Leonard Pearlstein Gallery at Drexel University, in collaboration with the Pentimenti Gallery, held an opening reception for "Raw to Refined: String, Tape, Sponges and Vinyl" Jan. 16. The exhibition features the works of four artists who used unconventional materials in the creation of their pieces.
"We decided to investigate materials that are not necessarily what you think of when you think of art," Amber Lauletta, exhibition curator, said, starting off the evening with a short introduction to the exhibition and its theme.
Nami Yamamoto expanded on this theme in the "Artist Talk" segment of the evening. Her work, "Fog Catcher," celebrates redwood trees and the fog catchers they inspired. Redwoods evolved to condense the water droplets suspended in fog on their needles. Similarly, fog catchers condense water vapor on their surfaces and have been used to collect drinking water in regions that receive little rain.
Yamamoto constructed two such fog catchers out of waxed linen and redwood timber, weaving a story into each. The first of the fog catchers depicts a character from ancient Japanese folklore. This mythical character is said to eat mist and is depicted in Yamamoto's work with its natural counterpart, the redwood. The second fog catcher shows fog clouds on the ocean.
"This is the beginning of the fog," Yamamoto said, gesturing to her first fog catcher, "and this is the end of the fog," she said while gesturing to the second.
Derrick Valesquez, of the Pentimenti Gallery, explained his artistic approach to another unconventional material, marine vinyl. Valesquez first encountered vinyl in his previous job as a book binder. He realized that he could turn this material — often found as a seat cover on boats or diner booths — into a sculpture.
"I'm kind of exposing this side of the material that you're not really supposed to see," Valesquez said. His works consist of multiple strips of vinyl on top of a wooden base, creating a layered effect.
Like Valesquez, Mark Khaisman used experience from his past jobs to help create art from packing tape . Khaisman said he appreciates the humbleness and throwaway nature of his medium. Drawing upon his past as a stained glass designer, he designed lightboxes to illuminate his tribute to film noir.
"From stained glass I borrowed this idea of painting with light," Khaisman said.
By carefully layering strips of packing tape, he formed the faces of Old Hollywood. One of his works, made specifically for this exhibition, is a 40-foot-tall mural of James Dean and Ursula Andress that consists entirely of packing tape.
He explained his interest in film noir, saying, "I grew up on the other side of the Iron Curtain and was always wondering what was behind it," referencing his childhood under the Soviet regime in Ukraine.
"It's interesting how he creates a three-dimension[al] effect using space and depth … especially because tape is so linear," Libby Mulory, a sophomore graphic design major, said.
Margery Amdur concluded the talk by discussing her sculpture made from cosmetic sponges.
"They're really kind of luxurious, but they're also architectural," Amdur said. After many experiments with sponges, she finally established a technique that she liked. Amdur first glues her sponges to a canvas and then stuffs the canvas in a way that gives her pieces a three-dimensional look.
"It's an intersection of art and landscape coming together," she said.
The final event of the evening was a dance performance by Leah Stein. Stein, a professor of dance at Drexel, collaborated with a local musician to celebrate Yamamoto's work in a dance piece.
"Nami Yamamoto's work has always been very inspirational to me," Stein said to the audience before the routine. The dance consisted of a series of fluid movements around the fog catchers to the tune of a saxophone solo.
The public is invited back March 1 to watch a longer, 40-minute dance which will include Drexel students.
A reception followed the performance during which attendees were able to meet and speak with the artists.
Orlando "Dino" Pelliccia, director of the Pearlstein Gallery, was pleased with the way the opening was received.
"We're proud of ourselves, proud of our gallery and proud of our artists," Pelliccia said.
The exhibition came together when the Pearlstein Gallery decided it wanted to collaborate with the Pentimenti Gallery. After reviewing a number of artists they wanted to exhibit, they decided to choose artists based on the common theme of unconventional materials. Gallery assistant Marnie Lersch explained that the inspiration of the gallery is the Drexel community. "One of our major goals is to be a venue for discussion for students," she said.
It seems that the students appreciated the opportunity. Po Lin, a sophomore graphic design major, came to the opening reception because he had seen Khaisman featured in an article on the website Reddit and wanted to see the artist and his work in person. "He's definitely one of the coolest artists out there," Lin said.
In addition to students, the opening reception was attended by Drexel faculty, the artists' supporters and regular visitors of the Pearlstein Gallery.
The exhibit is free and open to the public Tuesday-Sunday, 11 a.m.-6 p.m.
A workshop led by Khaisman and assistant professor Nicole Koltick from the Department of Architecture & Interior Design about using translucent tape will take place Feb. 12. Amdur is holding ongoing workshops every Wednesday in which students are invited to assist her in constructing and creating with cosmetic sponges.
Yamamoto is holding a filet lace-making workshop March 5. Refreshments will be provided for these events. To sign up for any of the events above, email [email protected] .